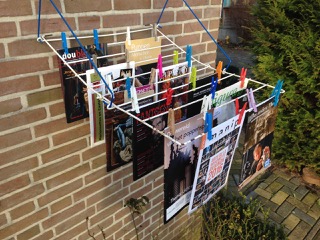 An International Puppetry Magazines' Review
Jenö Virág, editor in chief of Hungarian art and puppetry magazine "Art Limes" shares the first two volumes. "Dear Fellow Editors, Friends in Puppetry, I am happy to send you the first two volumes of our international puppetry magazines' review. The magazines are presented in alphabetical order, the first volume comprehending titles from A to L; the second from M to P; and the third from P to U. We are finished with editing the third volume too, but the PDF and print version can only be finalized in June 2023. . For the PDF, we had to reduce the pictures'...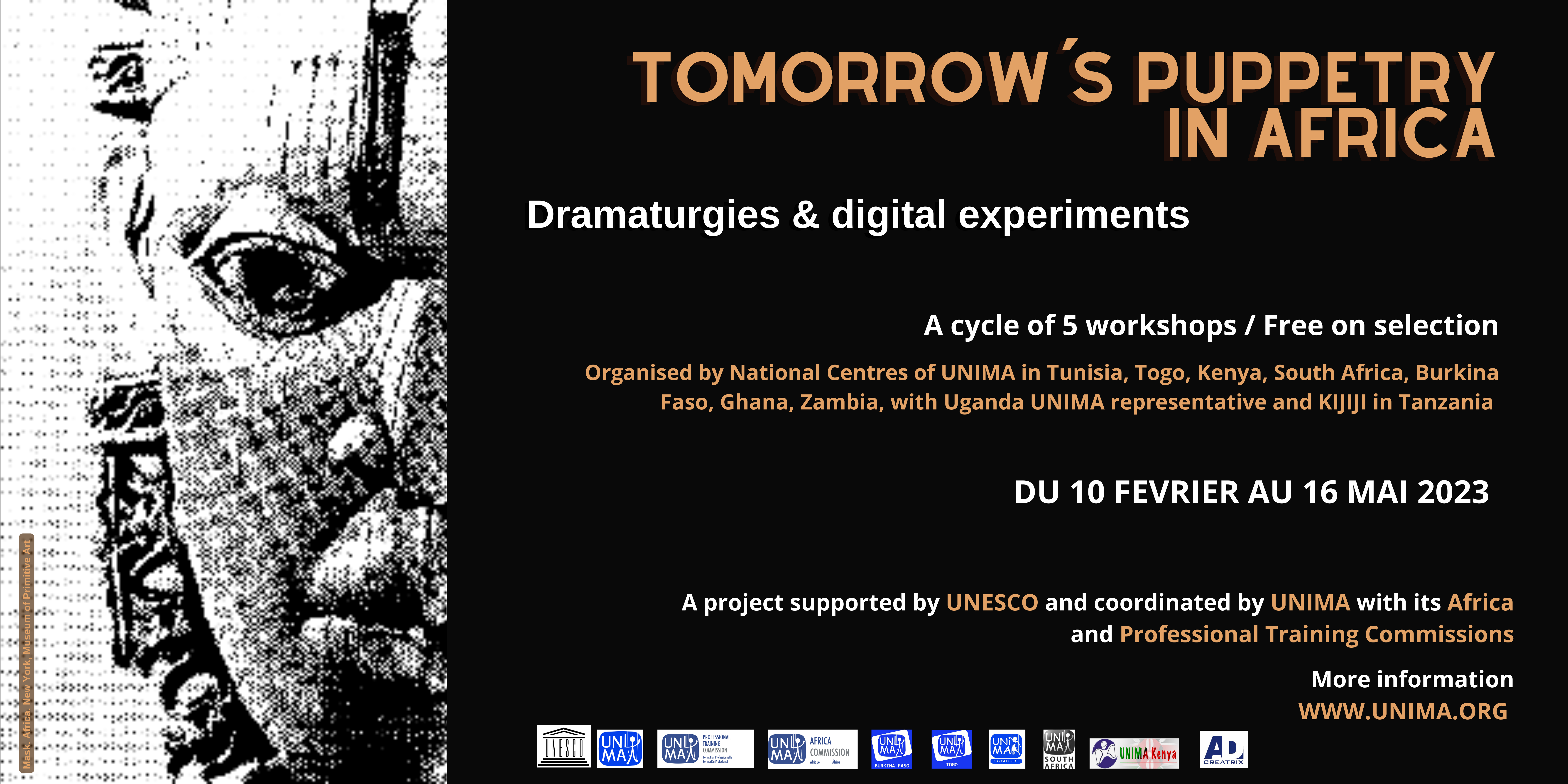 Tomorrow's puppetry in Africa - A look back at the last two workshops
In May were held the last two workshops of the project " Tomorrow's puppetry in Africa ". Second francophone workshop: " Puppetry and dramaturgies in public space ". The workshop for French-speaking African countries on the theme " Puppetry and dramaturgy in public space " was led by Alessandra Amicarelli (Italy) and Athanase Kabré (Burkina Faso) and took place from May 11 to 16. It brought together groups of young professionals in 7 countries: Benin, Burkina Faso, Burundi, Ivory Coast, Guinea, Mali and Togo, thanks to the cooperation and coordination of the National UNIMA Centers of each of these countries. [gallery columns="4"...

International PUPPET THERAPY Training Summer 2023 in BARCELONA by Andrea Markovits & Polo Fernández
A 5-day training session in the Barcelona Center aims to bring together former diploma students and other professionals interested in the therapeutic power of puppets. In response to international scenarios of emergencies and learned hopelessness, this training will present and review Muñecoterapia Chile's model of research and intervention with adults, in the context of memory, trauma and transgenerational damage. The training is via animation, the silent wordless language of animated forms (puppets, objects and materials): the cognitive functions of these and integrating elements of art therapy, and the dramatic and responsive function of puppet theater, as resources to guide group processes...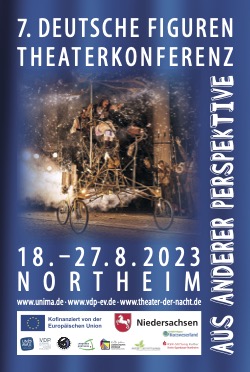 7th German Puppet Theatre Conference: "From a different perspective"(August 18th – 27th, 2023)
7th German Puppet Theatre Conference: "From a different perspective" August 18th – 27th, 2023, in the "Theater der Nacht" in Northeim, Germany A meeting of german puppeteers and international puppeteers, organized by Theater der Nacht, Northeim in cooperation with UNIMA Germany and Verband Deutscher Puppentheater (VDP), the union of the professional puppeteers. We are living in times of upheaval. Besides major social issue such as the climate, peace, democracy, integration, and diversity, we are questioning the perspectives on which our arguments and our lives are based: To what extent are we ready to listen to others, and to understand? How well are...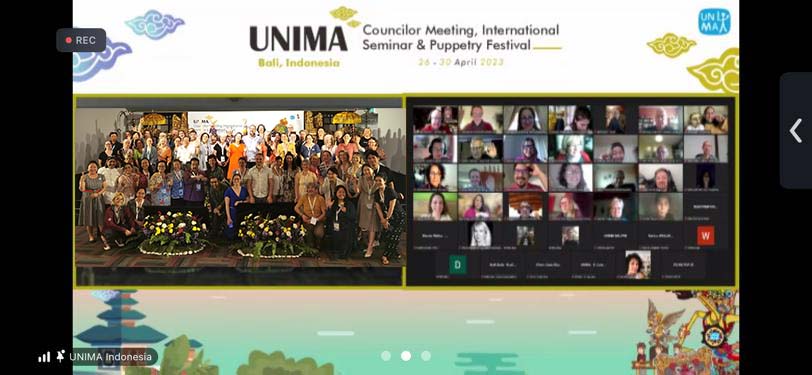 UNIMA Council Meeting – Day 5
Desa Kala Patra On Day 5 of the council meeting, final statute revisions proposed by Fabrice Guillot to improve the clarity and functioning of the organization were considered, National Center reports from Iraq and Singapore were shared, SE Asia reported on the establishment of a working group to increase collaboration among countries, UNIMA Korea shared a presentation on the preparations for 2025, and the Council approved the provisional budget and report of the General Secretary. Daria Ivanova (Ukraine) also gave a moving appeal to the council members on behalf of UNIMA Ukraine. In the tradition of wayang kulit, the dalang selects...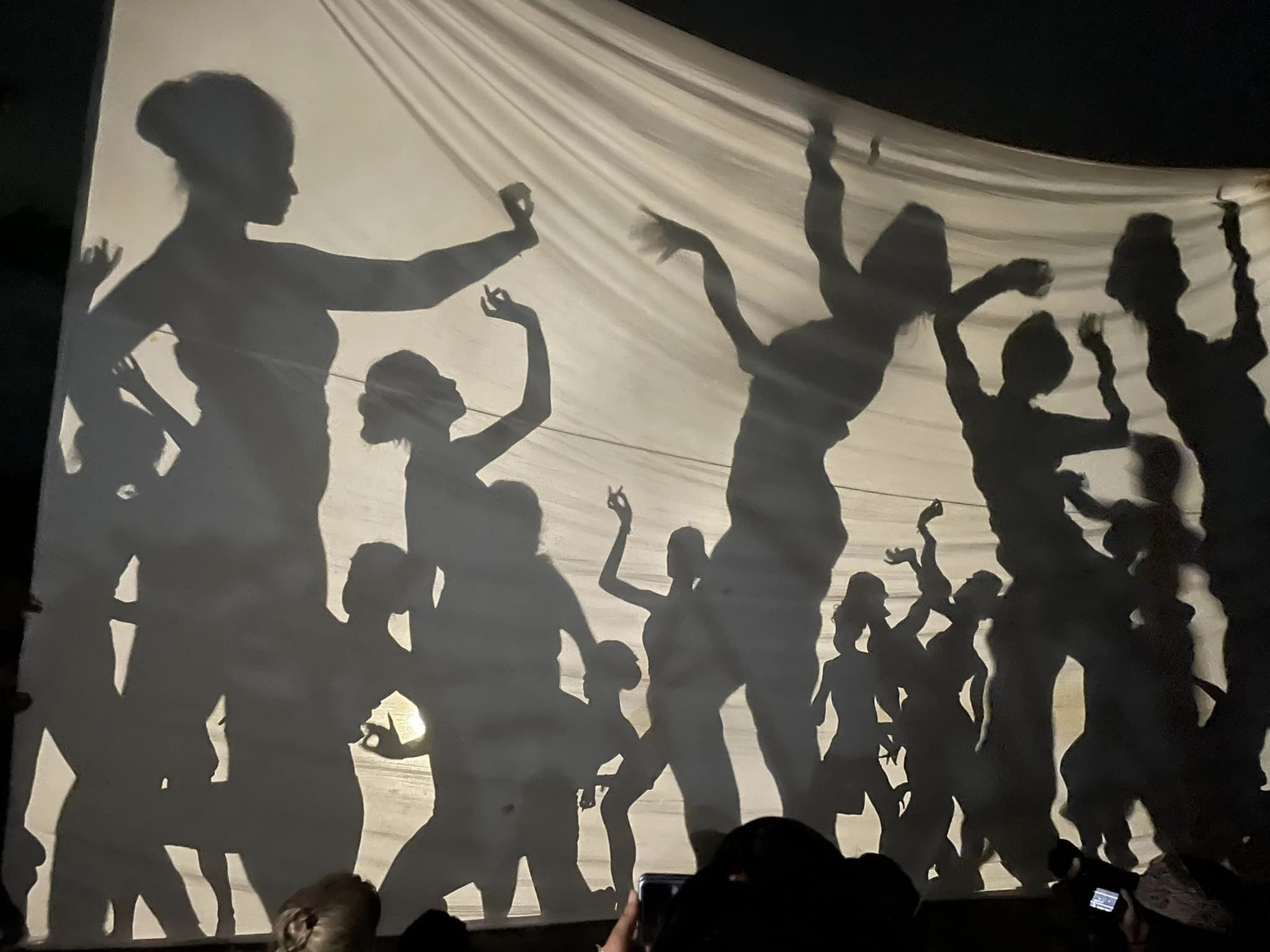 UNIMA Council Meeting – Day 4
When planning a special event or ceremony in Bali, the calendar of auspicious days must be consulted to ensure success. And what could be a more auspicious time to host a UNIMA council meeting than on Tumpek wayang, or the day of the puppet in the Balinese Hindu calendar. As shared by our host Ibu Yulita Samodra, "Tumpek Wayang/Landep Day in Bali is a holy day to respect the almighty God in His manifestation as the Sang Hyang Siwa Pasupati who is believed to be the supreme divine force  - in Bali commonly known as "Taksu" of anything that exists in...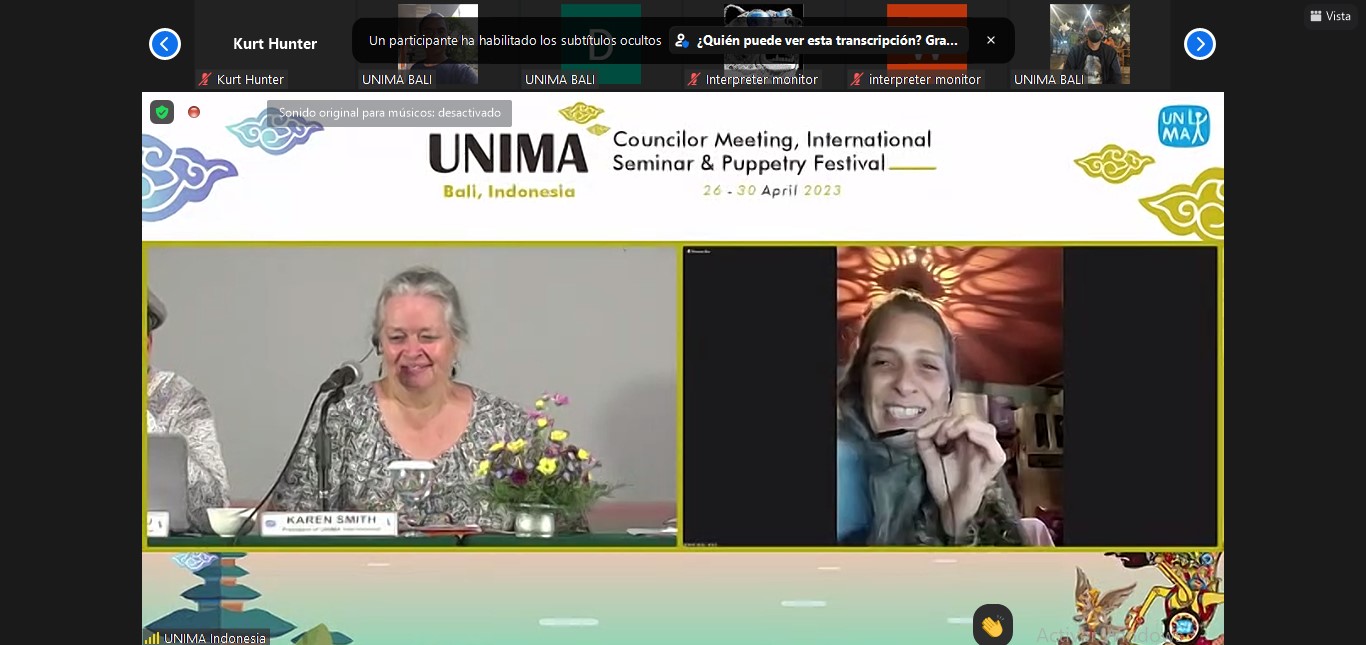 UNIMA Council Meeting - Day 3
Day 3 started with reports from the Americas. Happy anniversary UNIMA Brazil! Humanitas and Cooporation commissions also shared the great work they are doing to support puppetry artists in times of need, including a project to support students from Ukraine to continue their studies. Special thanks to the contributors to the Emergency Aid Fund for supporting these efforts! The Professional Training commission also shared news of a new event on June 2 which will be a meeting of directors that explores how they are working in times of war. The Research commission also shared news of their new initiatives...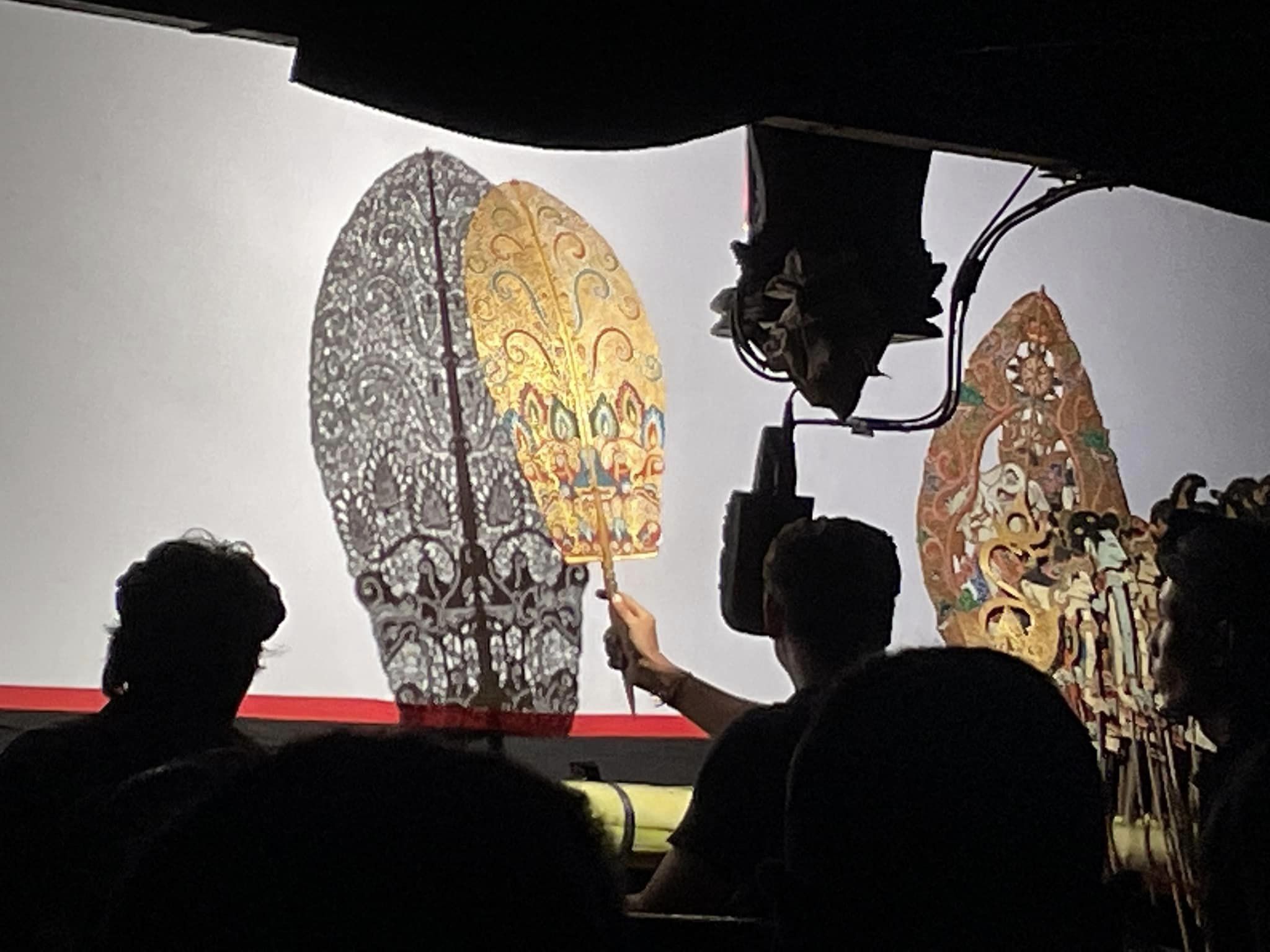 UNIMA Council Meeting - Day 2
Day 2 brought reports from South & East Asian, Pacific, West & Central Asian, European and African centers and representatives as well as Commission reports by the Asia-Pacific, Communication & Public Relations, Education, Developments & Therapy, International Festivals, Heritage, Museums & Documentation and Professional Training Commissions. It was a day to celebrate the many projects and achievements of the last two years but also to learn and reflect on the many difficult realities of our world today. The ongoing effects of the pandemic, natural disasters and war threaten the lives and livelihoods of our members in profound ways. In...

UNIMA Council Meeting - Day 1
At last the Bali Council meeting has begun. Marking the first hybrid council meeting of UNIMA's 95 year history, we celebrate the gift technology has given us to connect more broadly across the world, despite some challenges this imperfect tool also brings. Most of all however, this morning was a reminder of the passion and dedication of our vast network to celebrate what connects us - puppetry and a desire for mutual understanding and connection. The opening ceremony at the Garuda Wisnu Kencana cultural park was highlighted by a resonant performance by Collaboration Puppet Theater "AUM." We thank our...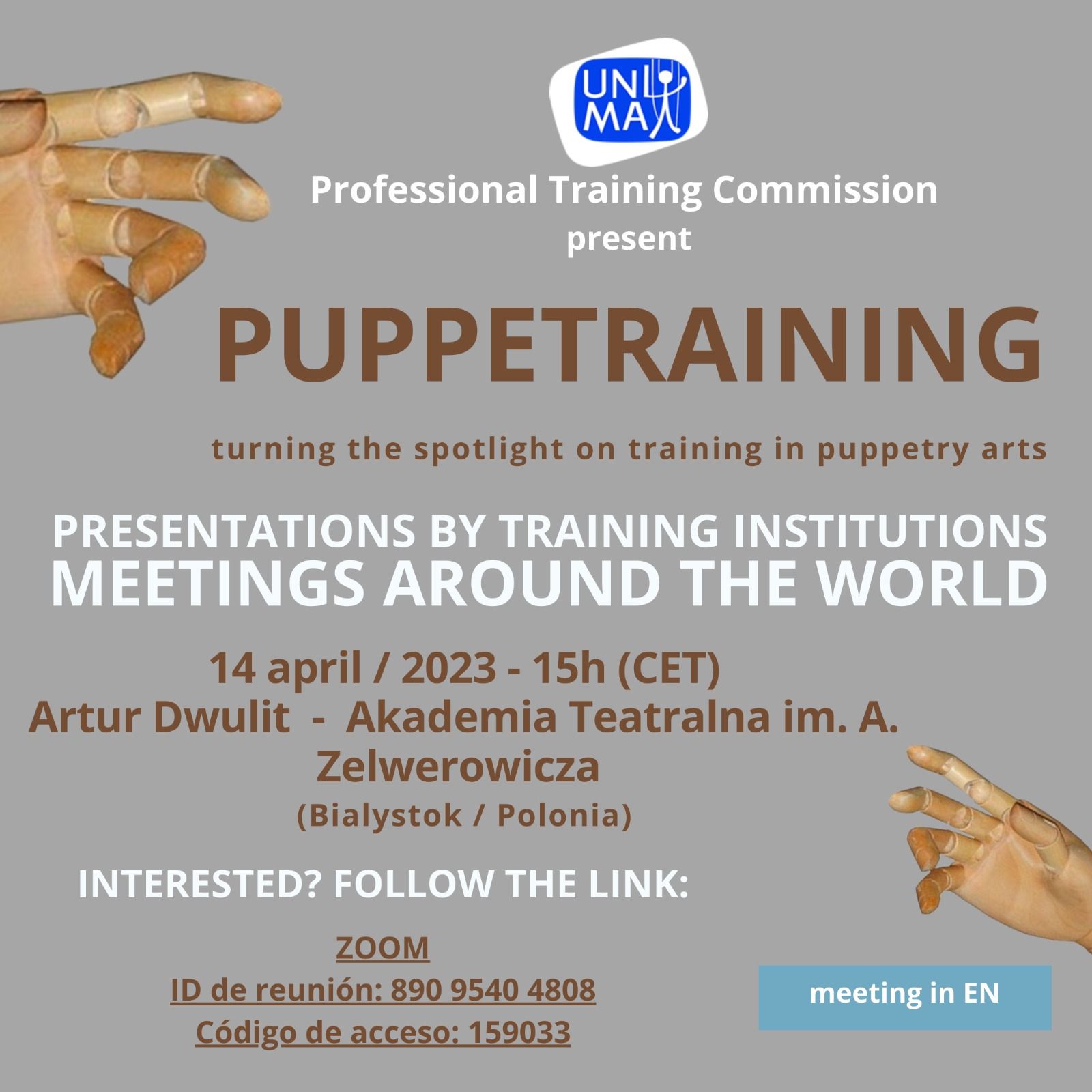 Professional Training featuring Artur Dwulit, Poland
The Professional Training Commission continues to gather puppeteer trainers around the world online to share ideas on training programmes. The next meeting will be held on Friday, 14th April at 15h CET on Zoom, in English, featuring Artur Dwulit from the Academy of Theatre in the name of Aleksandra Zelwerowicza of Bialystok, Poland. Zoom ID: 890 9540 4808 Access code: 159033 Do follow the Professional Training commission on facebook or unima.org for future sessions. In June, we meet the Kharkiv school who continues to train at the time of war, followed by a programme of Montreal in September and another of Brazil this...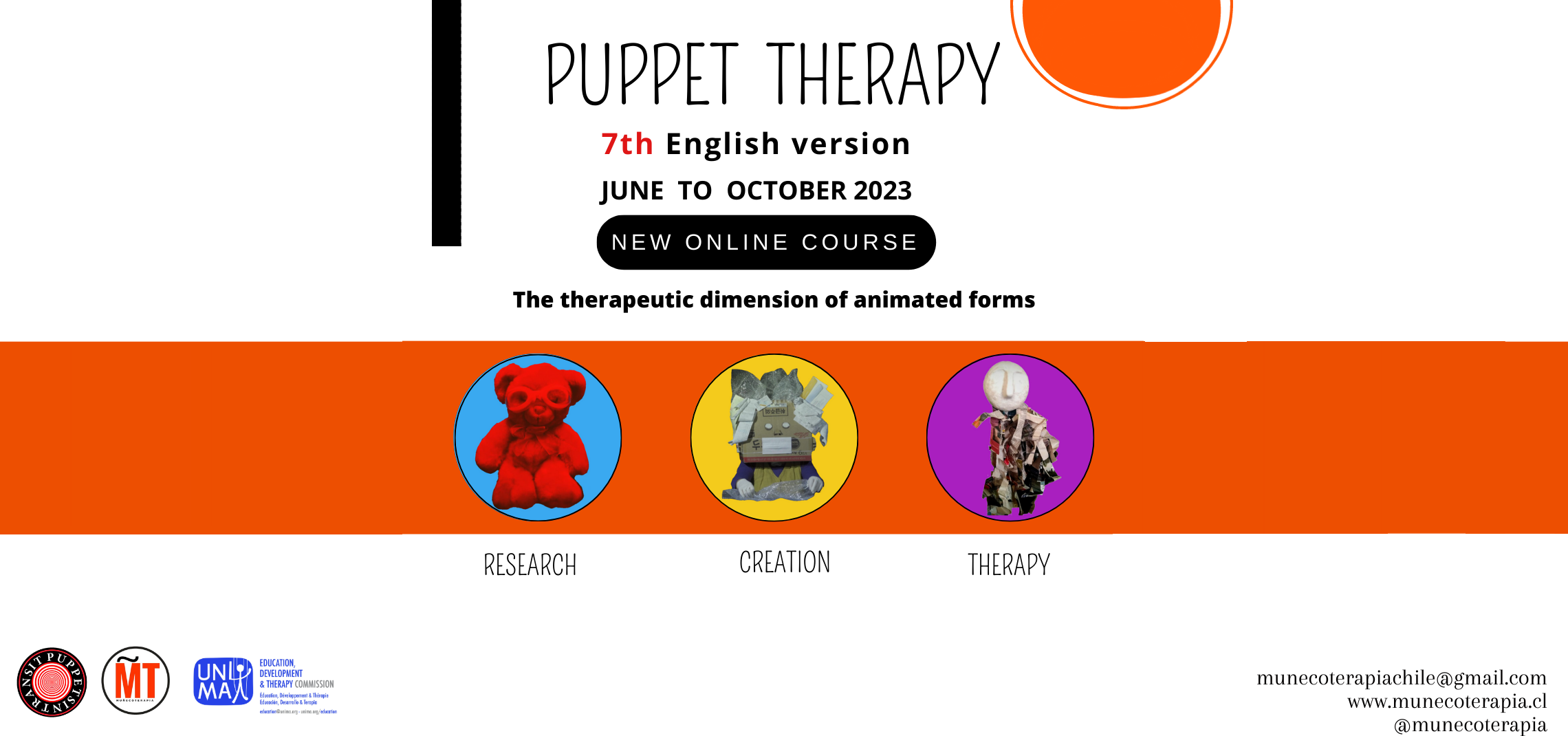 INTERNATIONAL ONLINE DIPLOMA IN PUPPET THERAPY 2023 – 7th English version
Muñecoterapia Chile calls for applications to the 7th edition of its International Online Course in Puppet Therapy. Called and organized by:  Muñecoterapia Chile & Puppets in Transit Sponsored by: UNIMA Education, Development and Therapy Commission This Online Diploma is designed and focused on the use of puppets and objects in the expressive and therapeutic dimension; to rescue memory and learnt hopelessness. The Puppet Therapy Diploma invites you to be part of a journey where creativity, and the exchanging of experiences between students and teachers from different fields and places around the globe are combined. THE DIPLOMA COURSE IN PUPPET THERAPY COMBINES ✔Theory, practice and...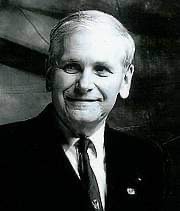 Jacques Félix, 100 years
Today is the centenary of Jacques Félix. Born 31st March 1923, Jacques Félix was very involved in the economic and cultural life of the Champagne-Ardennes region. He put into place events and factors that led to the rise of the city of Charleville-Mézières as a specific place in the evolution of an entire art form. In 1961, encouraged by puppeteer professionals, UNIMA, and the citizens of the region, Félix was able to create the Festival Mondial des Théâtres de Marionnettes (International Puppet Theatre Festival) that would soon become a world famous triennial (and later biennial) event (organised by the...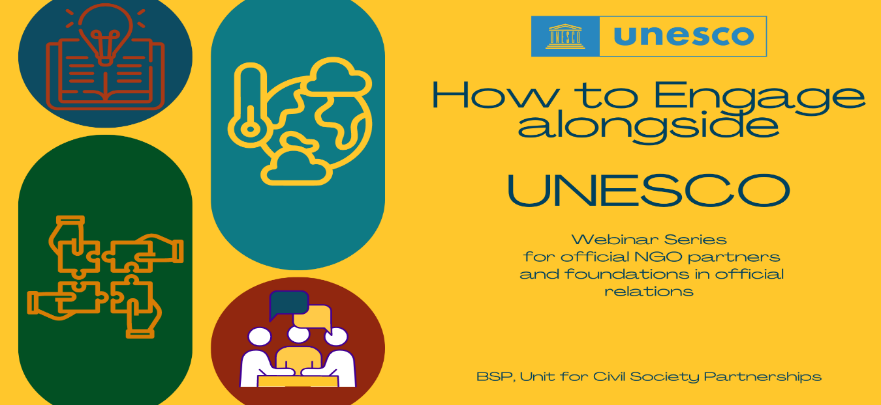 The "How to Engage alongside UNESCO" Webinar Series continues
*** SAVE THE DATE *** 2nd Webinar of the Series: "Freedom of Expression as a driver for all other human rights" Monday 17 April 2023, 2:00-3:30 p.m. CEST The invitation and detailed programme will be sent in due time. Reminder: The Webinar Series aims to foster mobilization and engagement of NGO partners around specific UNESCO's flagships and priority programmes by providing tailored background information, highlighting possible ways and modalities for engagement, and offering a space for interaction, to ask questions and understand how to effectively engage and capitalize on their own expertise and networks.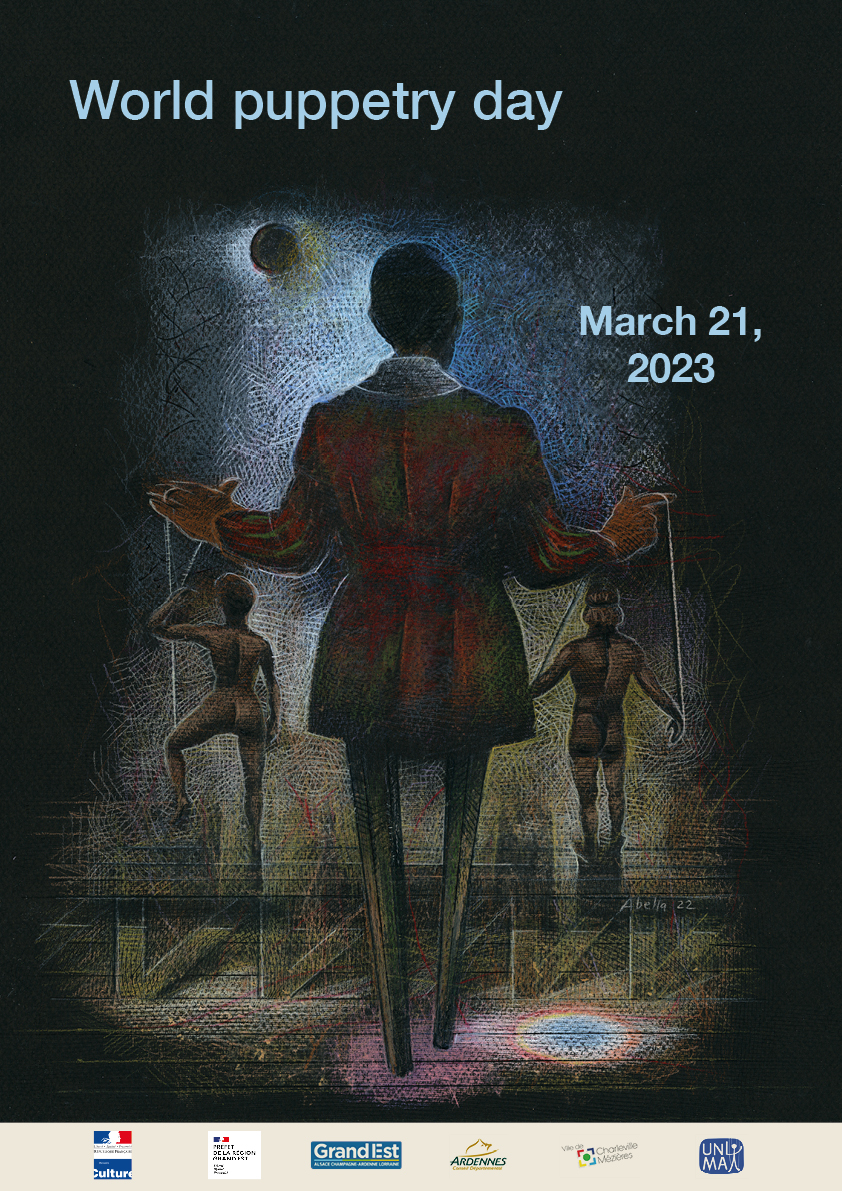 Message of World Puppetry Day 2023 by Professor Nina Malíková
"The pandemic, the war conflicts and the escalating economic problems of the last few years have made life difficult for all of us, as all this unrest creates tension, fear and anxiety about the future. Worry has settled in our minds and on our faces. Of course, I cannot imagine what it was like in previous centuries.  But if we look a little closer at history, we see that similar situations – albeit in a different form and world order – have existed before. Despite all this, people believed in love, had children and still tried not only to survive,...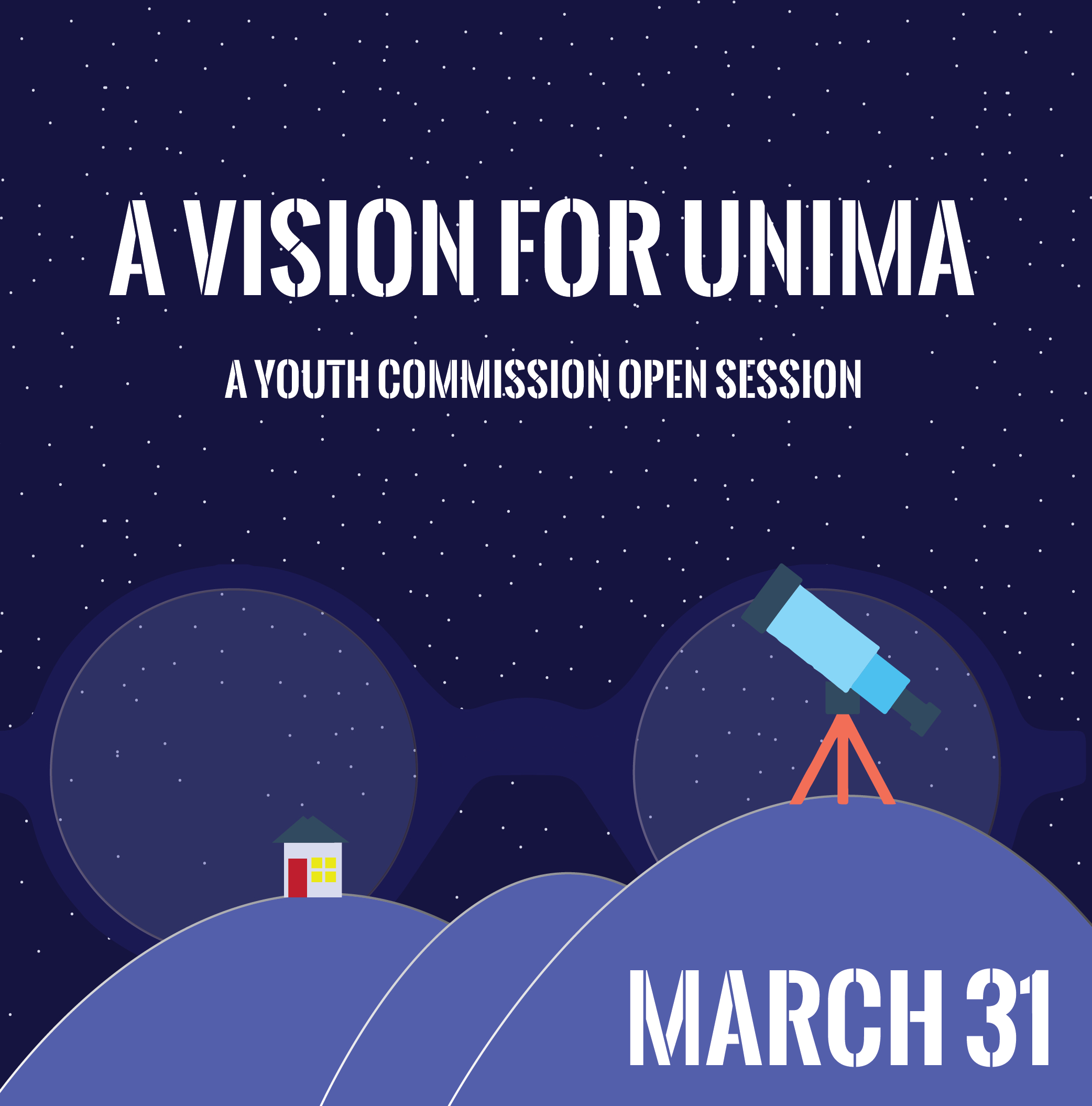 A Vision for UNIMA | Youth Commission open session March 31
A Vision for UNIMA | Youth Commission open session Date: March 31st Time: 12P.M. CET (Central European Time. Please note that CET changed on 26th March 2023) The Youth Commission invites you to an open session about UNIMA's vision and priorities for the future. We want to hear your thoughts, ideas and questions about UNIMA, the field of puppetry, and our role in its continued thriving. Let us take a place at the same table and make space to listen to the voices of our field. The meetings will take place on March 31st and will be organized online via Zoom. Registration is open...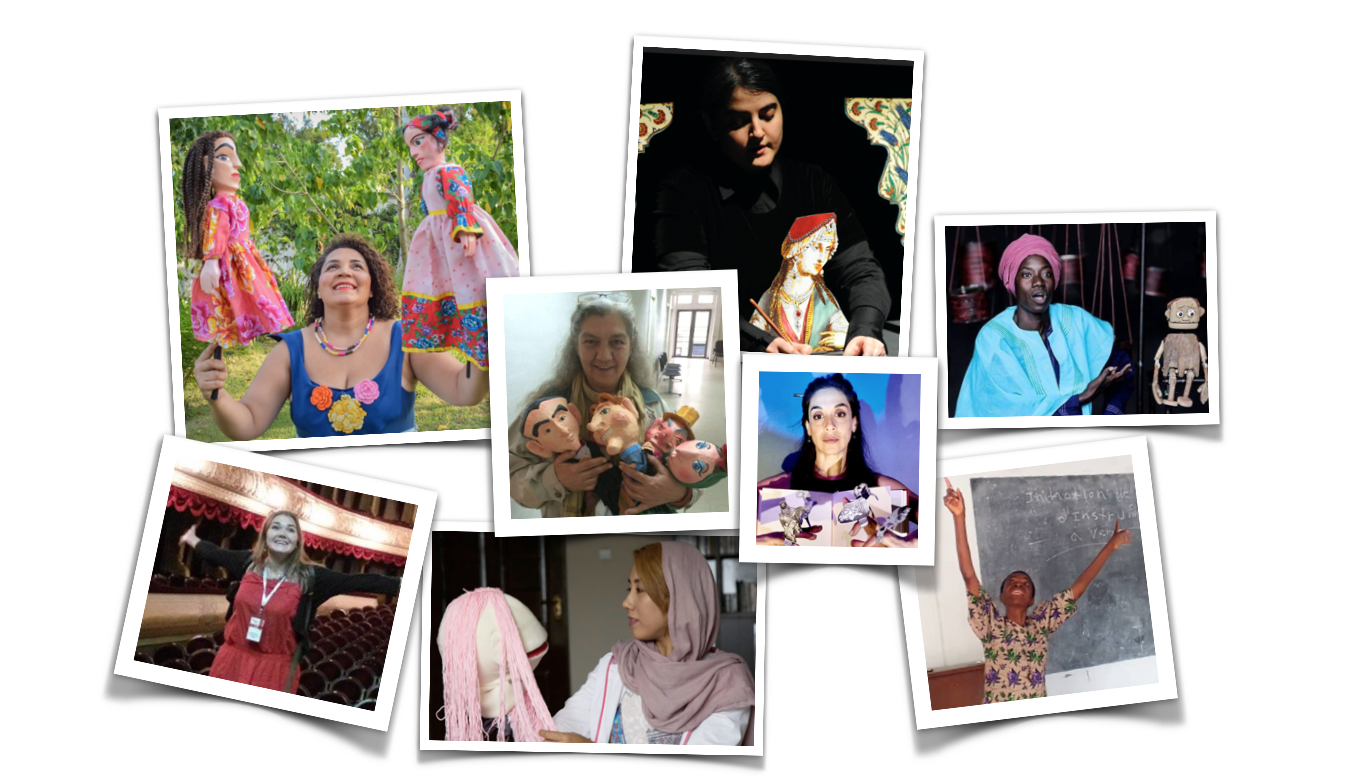 UNIMA celebrates International Women's Day 2023
UNIMA's volunteers have organised a series of interviews available on its new news channel where women artists may share their achievements and challenges. The first series of eight videos was released on March the 8th 2023 on International Women's Day. The group invites all puppeteers of the world, regardless of nationality, gender, and religious beliefs, to display and represent their views on Women, Life, Freedom with their puppets, via photos or videos, on their page, unima.org/womenlifefreedom. Your contributions may be kept anonymous if you require, and they would consider all videos and image files if you could provide the name...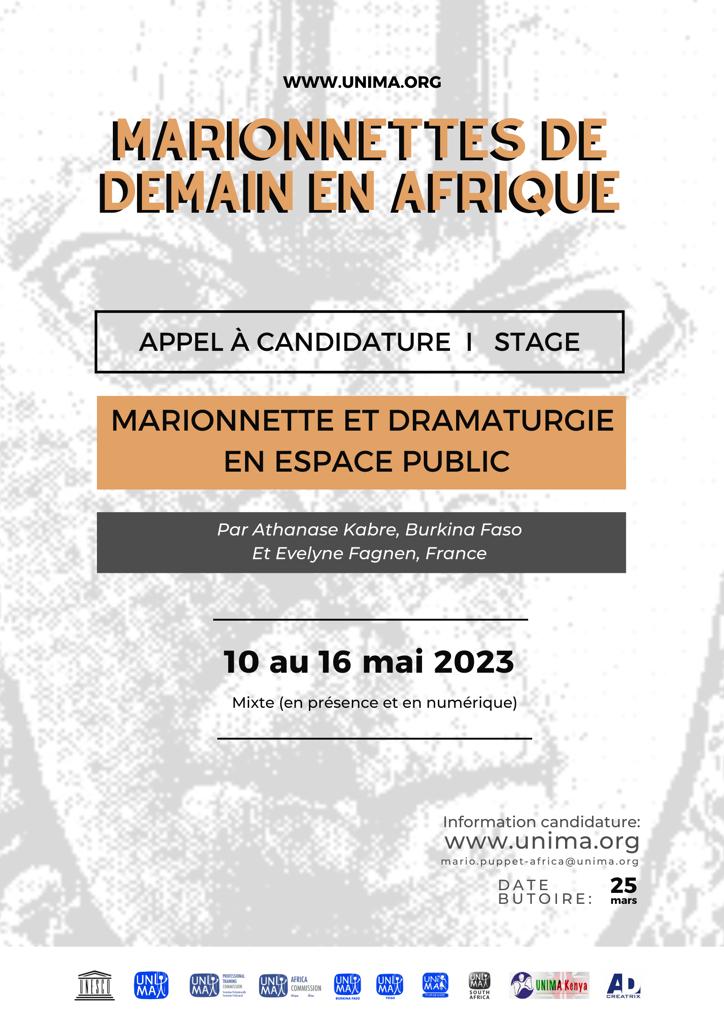 Puppetry and dramaturgy in public spaces, call for applications open!
Tomorrow's puppetry in Africa - Dramaturgies and digital exeriments A training cycle for the puppetry artists of the African continent. UNIMA international, its commissions Africa and Professional Training, in collaboration with the National Centres of UNIMA in Tunisia, Kenya, Togo, South Africa, Burkina Faso and the representative in Uganda, launch together a training cycle in 2023 for puppetry artists of the African continent on the theme: Dramaturgies and digital experimentations.  For this project, the partners wish to work with other National Centres and representatives from the continent who are invited to apply after having read the call for applications by writing a...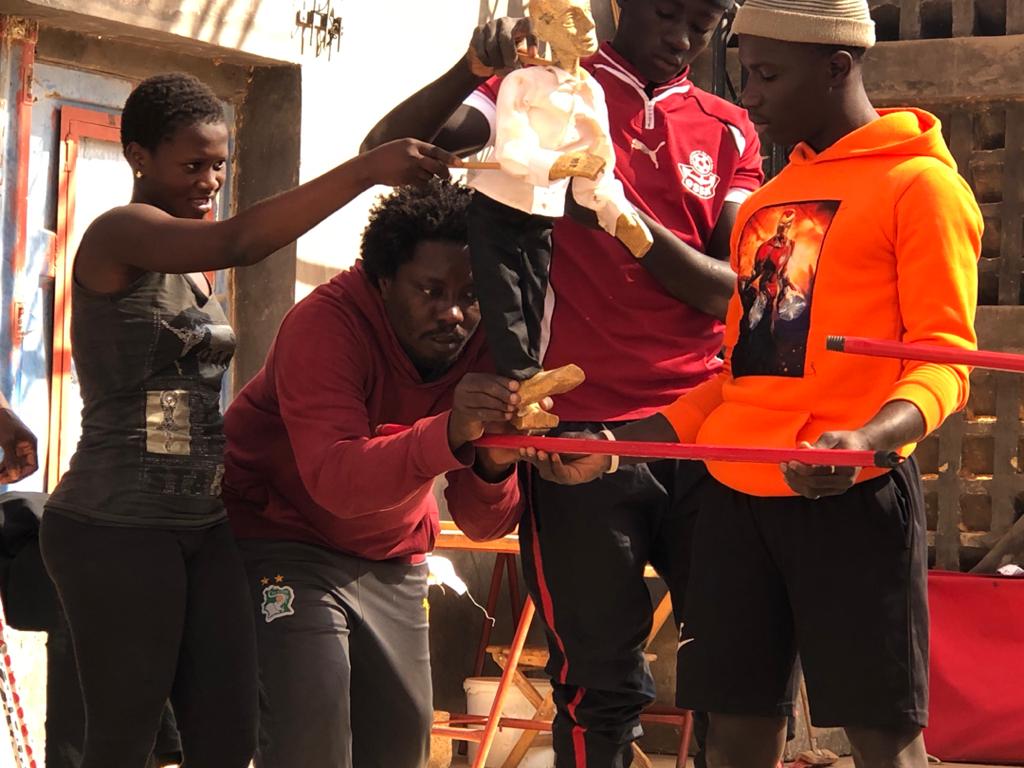 NEWS BOOKLET - Project Africa 2020-2021
Plein Feu Sur La Marionnette en Afrique Even if it is said "of tradition" in Africa, the sector of the puppetry arts is not yet really professionalized. Conscious of this reality, UNIMA - International Union of Puppetry, proposed, with the Académie Ivoire Marionnette (Ivory Coast) and the Centre Djarama (Senegal), a cycle of training associated to a creation and professional meetings, the whole within the framework of the 90 years of the organization. This project had vocation not only to accompany the professionalization of the sector by integrating, notably, young artists to the activities, but also to bring a visibility...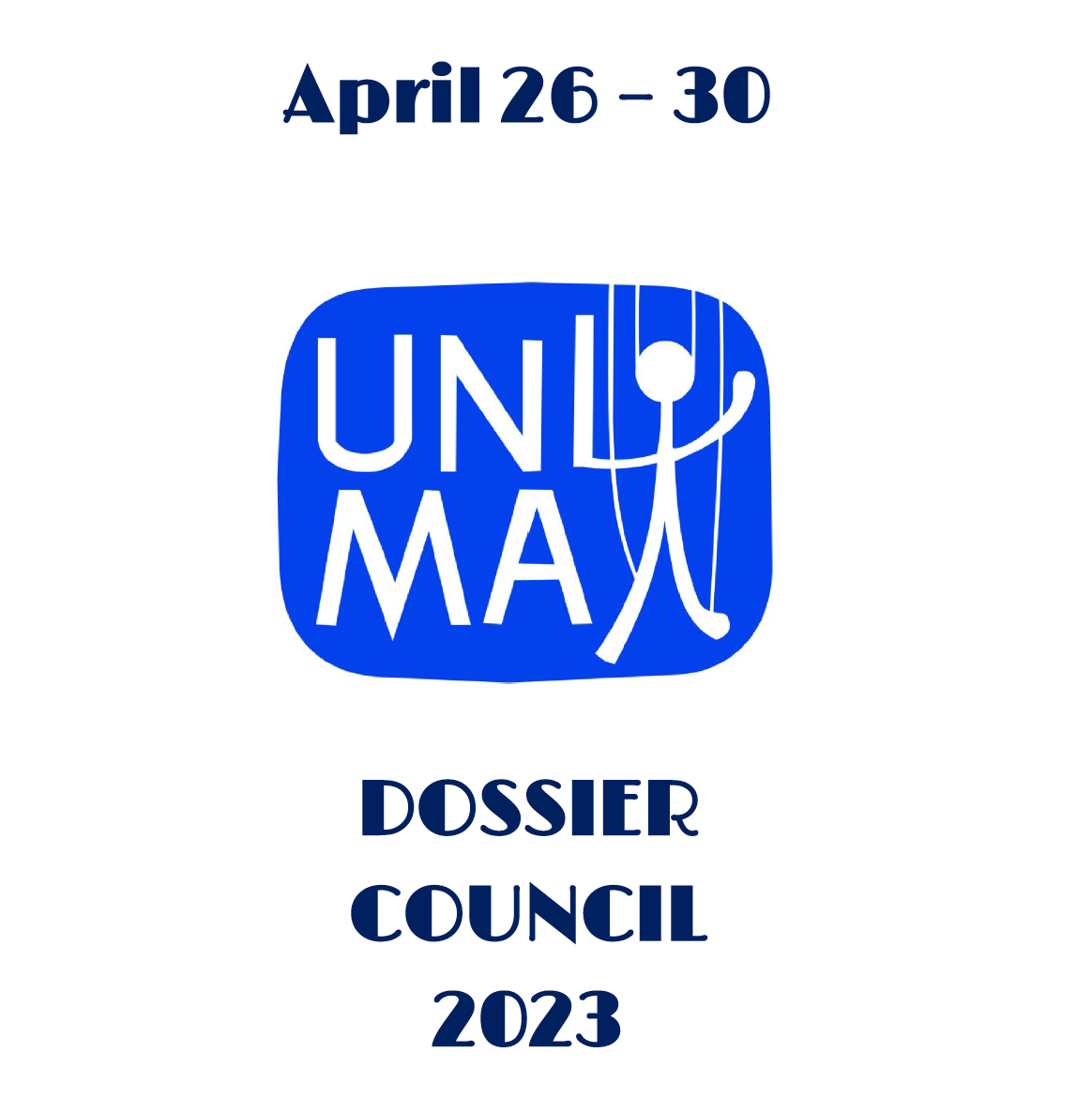 UNIMA Council, Dossier 2023, English Edition
It is with our great pleasure to announce that the English dossier for the UNIMA Council of April 26th-30th 2023 is here. This first edition contains the reports of all our Commissions and 46 National Centre regarding their activities since the online Congress of 2021. All UNIMA members are entitled a digital pdf of this dossier, available for download here. To access the document, please write to your National Centres for the password. For direct members, please write to info@unima.org. If you have yet to join us as a UNIMA member, you may acquire a digital copy via Sendowl, a 10€ fee...
The State Academy of Puppet Theater of Kharkiv in Charleville-Mézières
The city of Charleville-Mézières, the UNIMA - Union Internationale de la Marionnette and the Institut International de la Marionnette join forces to welcome from the 18th to the 25th of March, during the festivities planned for the World Puppetry Day 2023, 4 Ukrainian puppetry students and their director Oksana Dmitryeva. The opportunity to lay the foundations of a longer term cooperation during the next edition of the World Puppetry Day 2023 which federates about twenty partners in Charleville-Mézières, in the Ardennes department and in the Grand Est region. This delegation will be able to take part in numerous activities and present...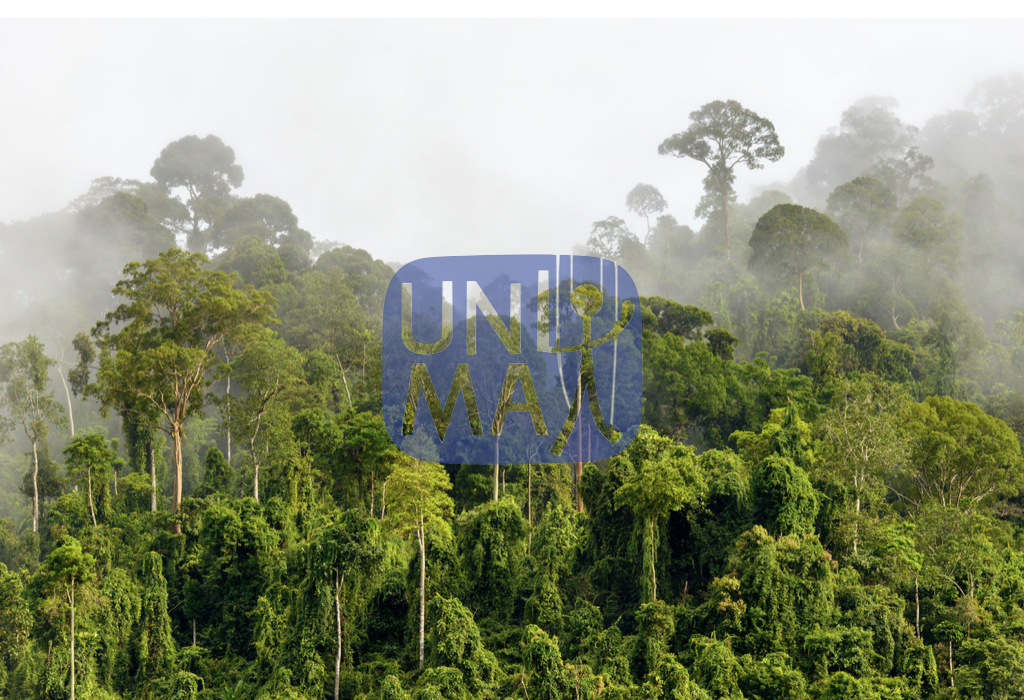 Contribute to World Puppetry Day's video montage, Call of the Forest!
We call upon you all to submit video sequences between 15 to 30 seconds (filmed horizontally) of your creations and animations resonating with stories of the forest. For WPD 2023, we hope to promote a focus on our forests. They are invaluable, yet always in danger. The forest and all they convey is the focus of our montage for World Puppetry Day. Send your file (maximum 30 seconds), direct or via a file transfer site (WeTransfer, Sendit, Dropbox, etc) to web@unima.org. We seek your understanding that videos should come without graphics, logos, or subtitles for a cohesive montage. Your...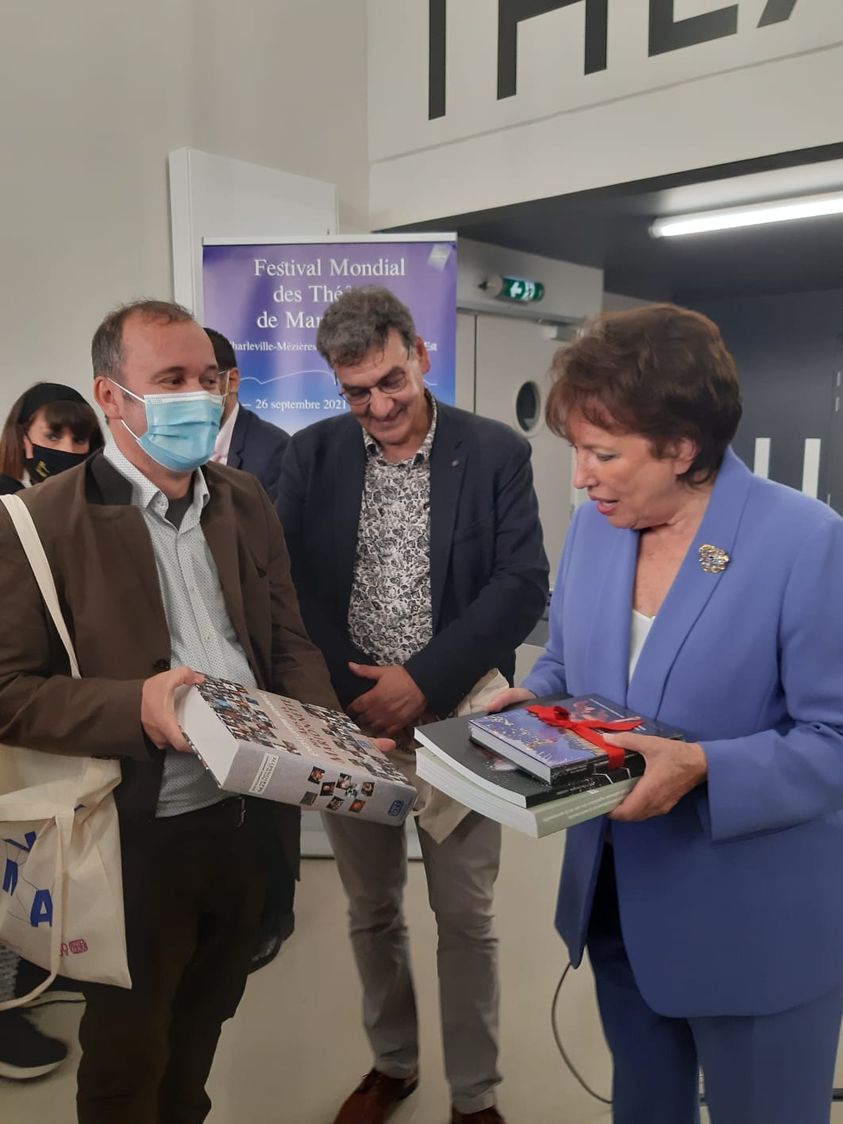 UNIMA showcase at the Charleville-Mézières festival, 2023
UNIMA creates links and often more than links, founding stories for places. All UNIMA meetings create this value of friendship and vision. Charleville-Mézières is a commendable example of a reciprocal friendship that creates tools to support enthusiasm and desire, but also to develop values that are essential to all humanity. From a subsidiary art relegated to the margins, UNIMA has not ceased to promote, to launch projects and to found not only schools, but an ever greater recognition of the puppet arts as a major art. The languages of this art make us universal through the approach of these links and...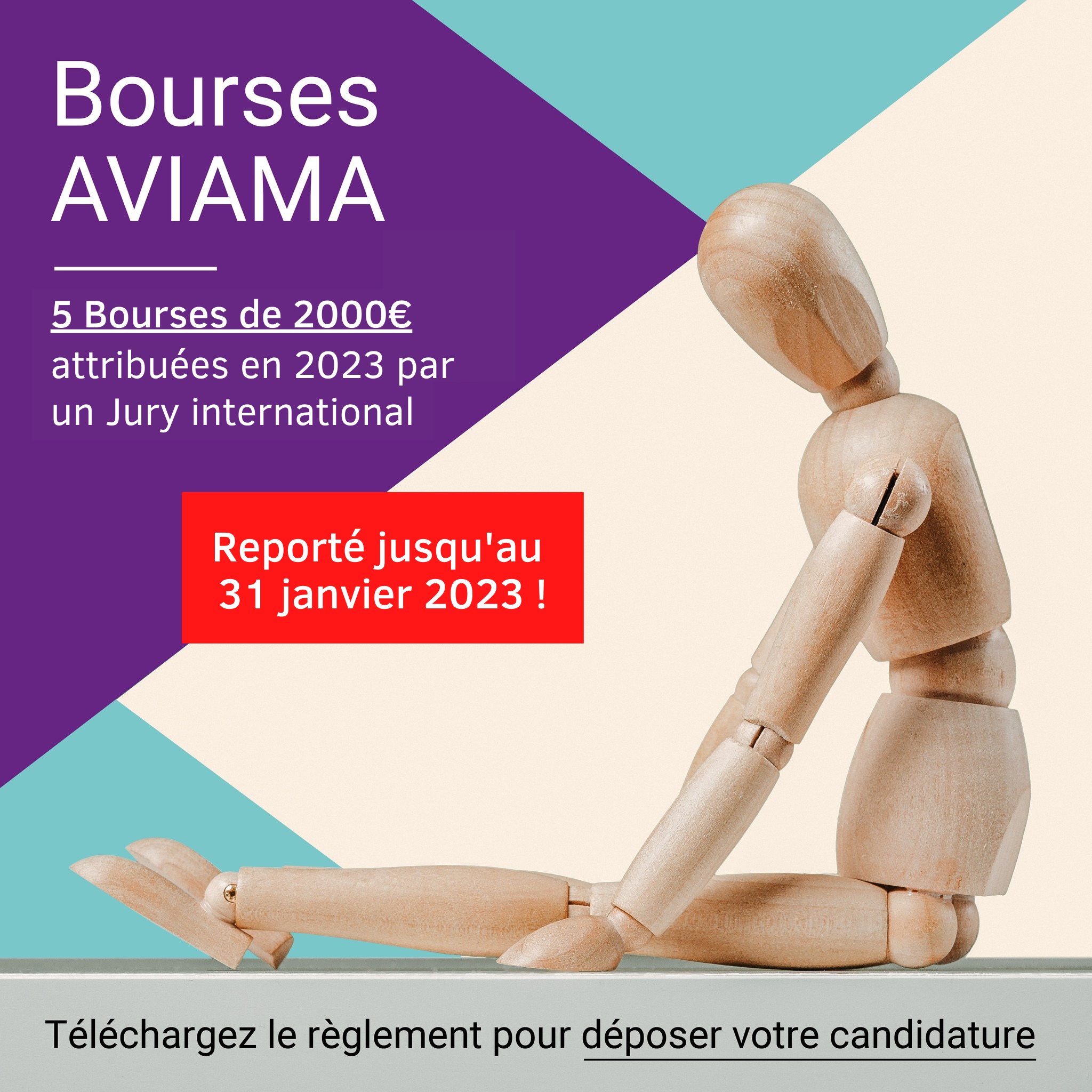 Call for applications – AVIAMA grants 2023 – Puppets and Mobility
The International Association of Puppet Friendly Cities (AVIAMA) brings together cities and local governments around the world around puppetry, convinced of the importance of culture in their development. AVIAMA represents a real network of cooperation and exchanges. For the 5th consecutive year, AVIAMA is launching a mobility aid scheme for projects in the field of puppetry. The deadline for sending applications is Tuesday, January 31, 2023 midnight. The results will be communicated from Friday, April 14, 2023. Sending the complete file by email to contact@aviama.org Objectives of the scholarships They are intended for any person or company having a project involving: Training, Creation,...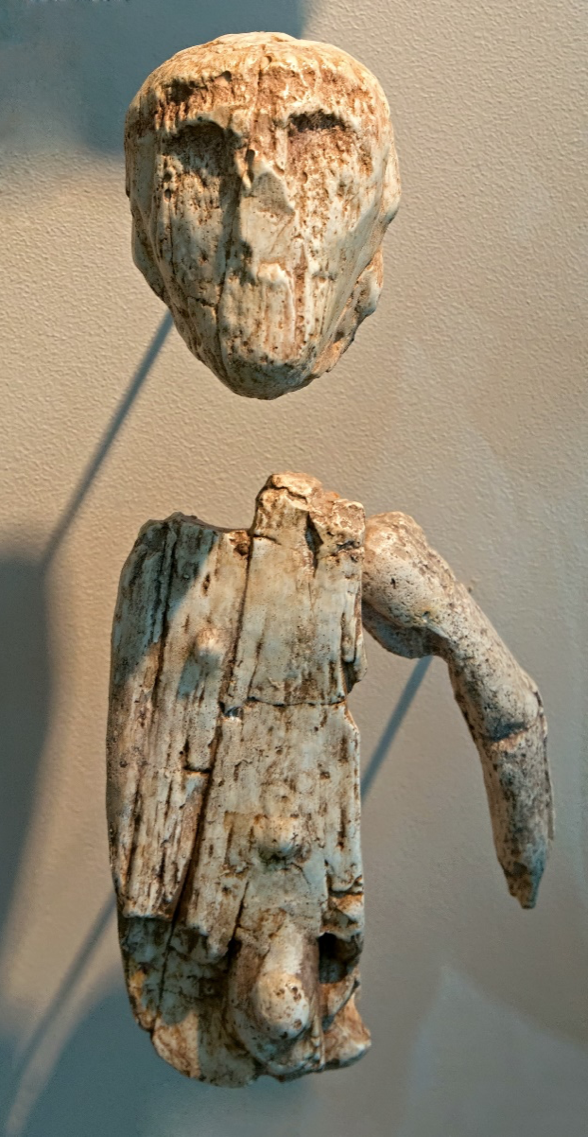 Beyond the thought of the clouds?
In the beginning, a drop of water appeared, which drew the most beautiful shapes; but these were all ephemeral. However hard or complex matter may be, know that it has water as its principle. But all that has water as its foundation has no more reality than a dream, than a mirage. No one has ever considered water as a stable element. How could a construction on water be indefinitely solid? The Conference of the Birds, Farid Ad-Din Attar (1142-1220) To propose a future, beyond everything, beyond political, geopolitical, climate, economic, and public health crises, when bombs are falling, destroying theatres and...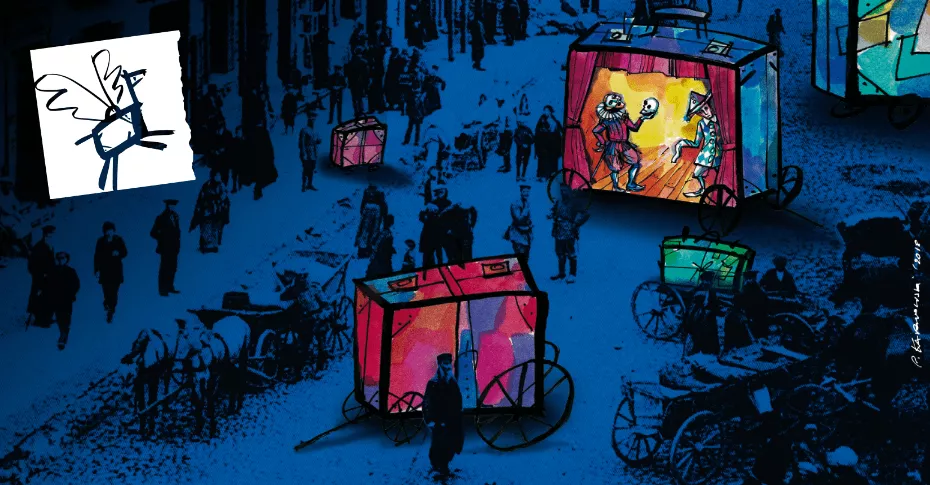 36th International Theatrical Festival VALISE
We would like to kindly inform you that the 36th edition of the International Theatrical Festival VALISE will be held from May 31 to June 3, 2023 at the Puppet and Actor Theater in Łomza. For 35 years, the festival has matured, repeatedly undergone programmatic transformation, reacted to newer and newer trends in contemporary theater, social changes, the history of the changing world and made the dreams of artists come true. Each edition of this important international event enables the flow of artistic ideas, exchange of experiences and provides a space for puppetry meetings in a unique atmosphere. The festival...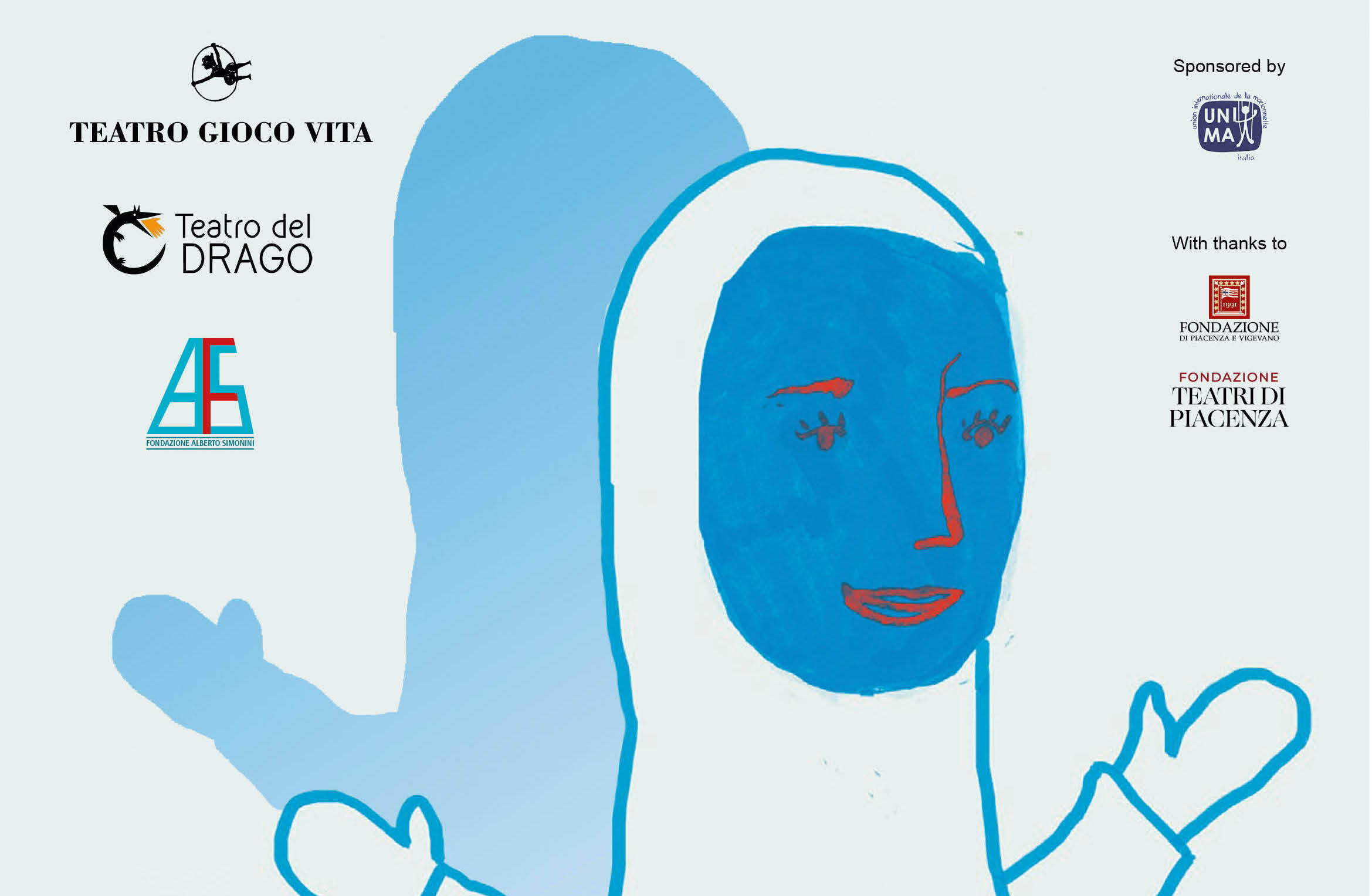 ANIMATERIA 2023 Advanced training course
ANIMATERIA 2023 Advanced training course for puppeteer expert in techniques and languages, analogue and digital, of puppet theatre. Until 31 January 2023 registrations for ANIMATERIA 2023 / IVa Edition will be opened. ANIMATERIA is a specialised training course for promoting and stimulating the practice of contemporary puppet theatre in all its forms particularly, but not exclusively, amongst young and up-and-coming artists, to awaken interest in its extraordinary possibilities for scenic and dramaturgical experimentation. The course, co-financed by the Emilia-Romagna Region and the European Social Fund, is organized by Teatro Gioco Vita, Teatro del Drago and Fondazione Simonini, and will be held in...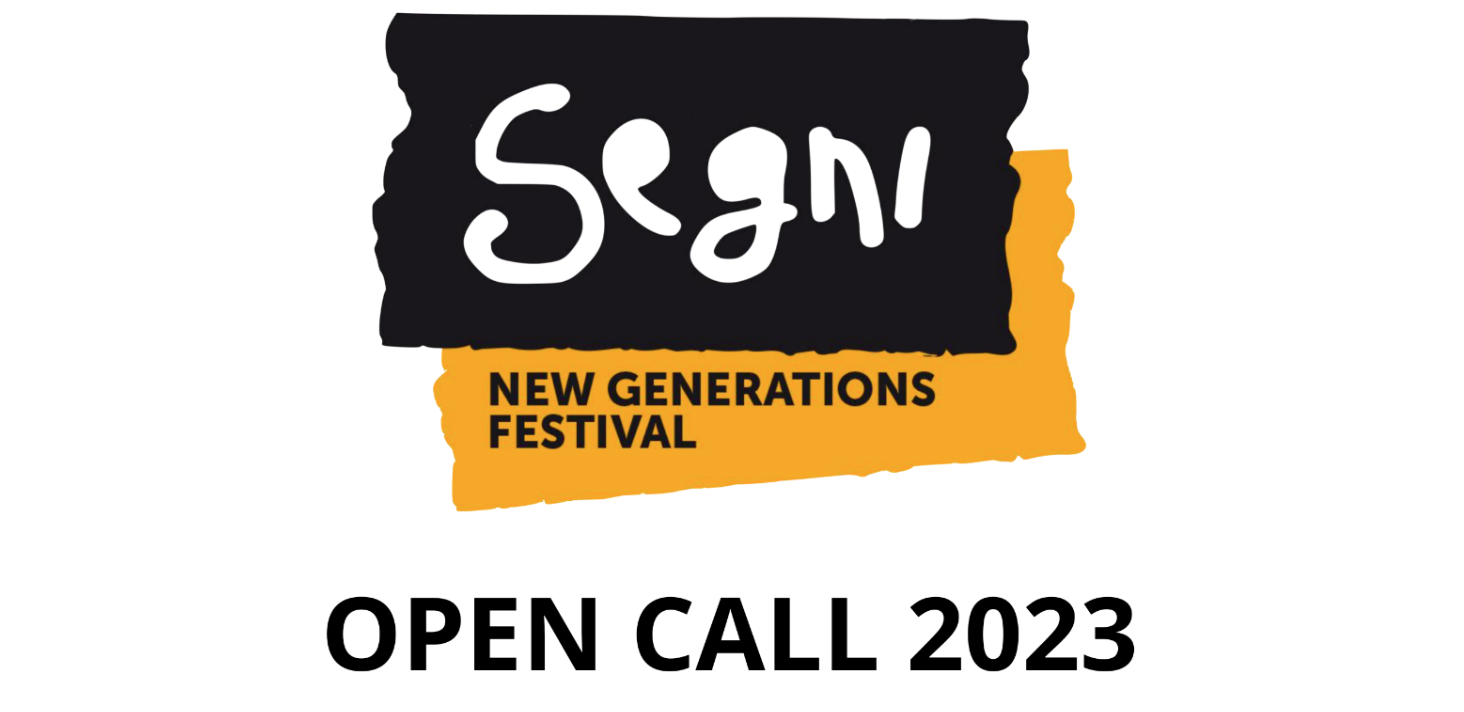 Segni Festival
Below are all the opportunities to participate and co-create with us Festival SEGNI 2023. There is time until December 31 23:59 CET to apply and share your ideas. Apply with a performance Apply to teach a Pasta Madre Masterclass Bring a Teen group to the Festival OPEN CALL: APPLICATIONS OPEN until December 31, 2022 - 11:59 pm CET! We look forward to your submissions, see you soon! For more information: segnidinfanzia.org | segnidinfanzia@gmail.com | +39 0376 752417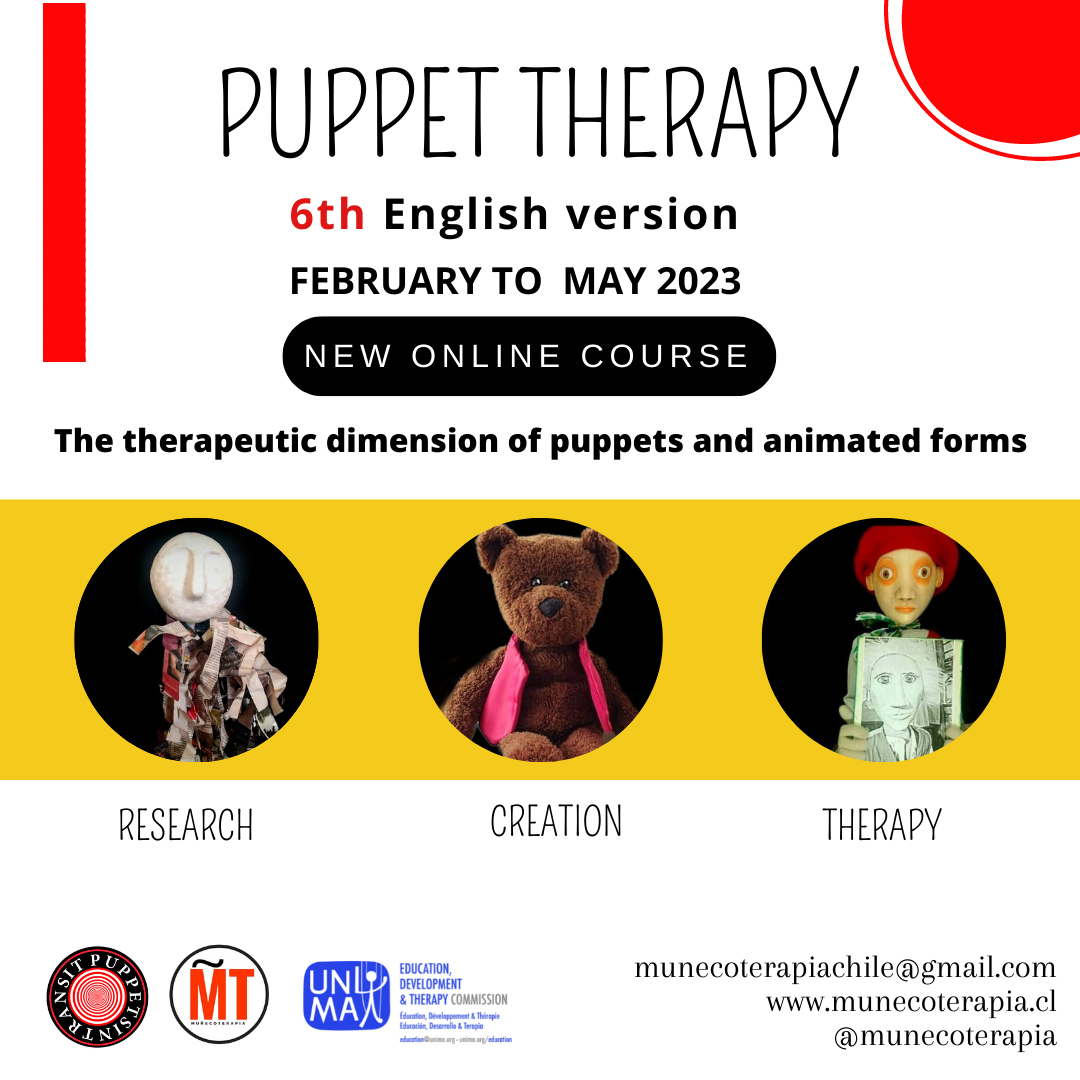 INTERNATIONAL ONLINE DIPLOMA IN PUPPET THERAPY 2023 - 6th English version.
Muñecoterapia Chile invites applicants to the 6th edition of its International Online Diploma in Puppet Therapy. Call and organisation: Muñecoterapia Chile & Puppets in Transit Sponsor: UNIMA Education, Development and Therapy Commission This Online Diploma is designed and focused on the use of puppets and objects in the expressive and therapeutic dimension; to rescue memory and learnt hopelessness. The Puppet Therapy Diploma invites you to be part of a journey where creativity, research, studies, and the exchanging of experiences between students and teachers from different fields and places around the globe, are combined. THE DIPLOMA COURSE IN PUPPET THERAPY COMBINES ✔Theory, practice and research...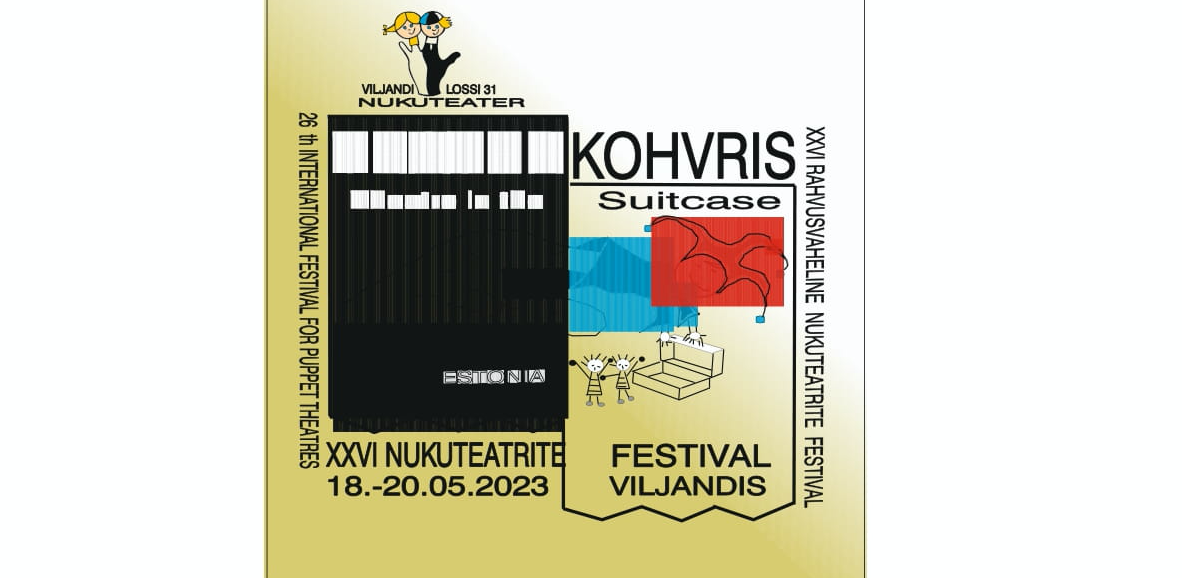 Estonia's 26th International Festival, "Theatre in the Suitcase"
XXVIth international puppet theater festval "Theater in suitcase" / Estonia We welcome You to the 26th International Festival of Puppet Theaters "THEATER IN THE SUITCASE" The Festival will take place in May 18 – 20. 2023 in Viljandi, Estonia From the festival program you will find: * Puppet shows in Viljandi Puppet Theatre and various places in Viljandi * Round tables and discussions after the performances * Different workshops * Evening activities During the Festival every participant will be provided with free accommodation and catering. You have free entrance to all performances and concerts turning the festival. We don`t pay fee for the performances and don't cover transport...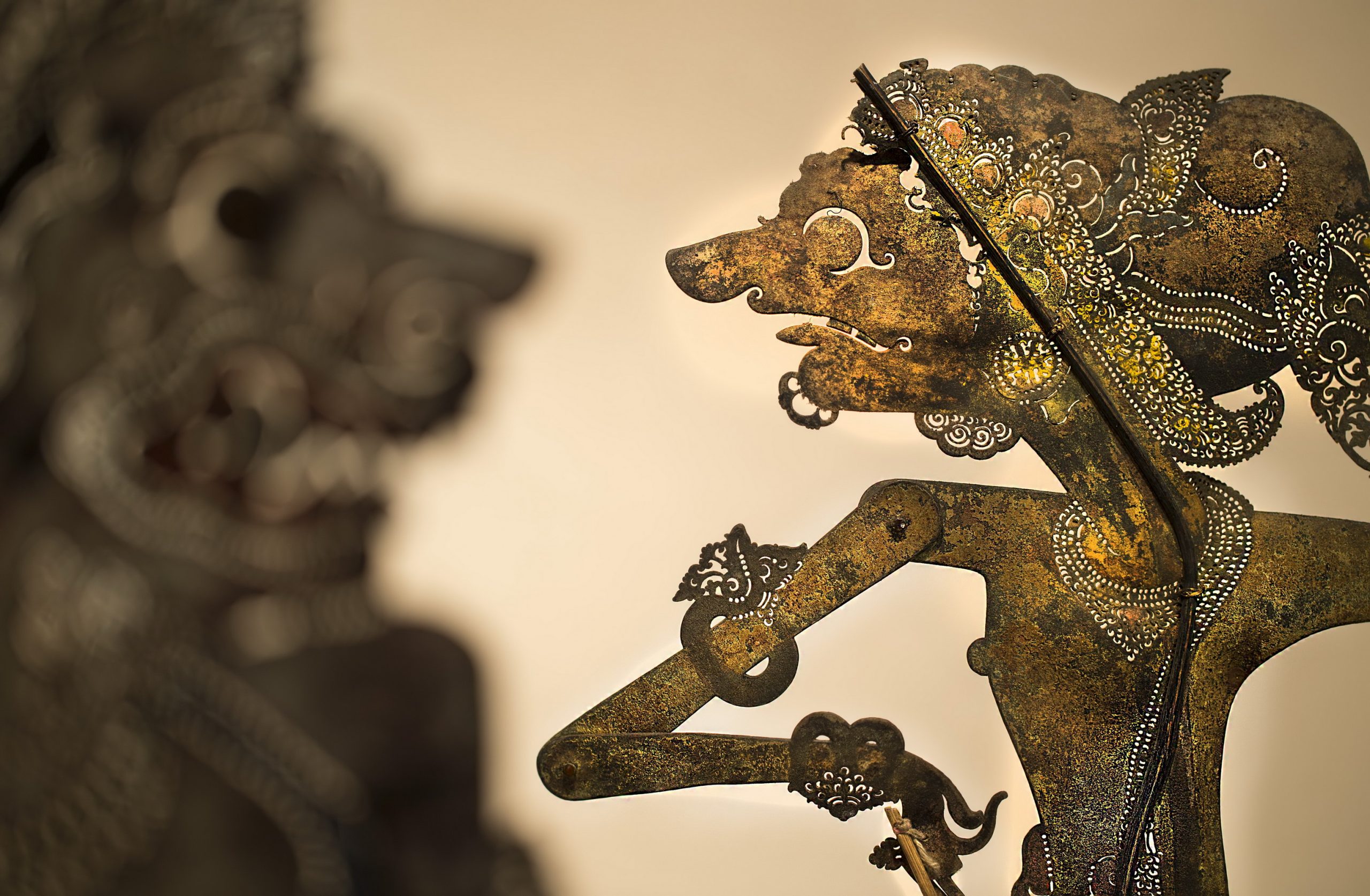 « On Participation and Solidarity» A letter from the General Secretary
27th October 2022 THREADSUNS above the greyblack wastes A tree- high thought grasps the light-tone: there are still songs to sing beyond mankind (Paul Celan, 1968. Translation by Pierre Joris) Dear Presidents, Councillors, members and friends, In a world more and more upset, the arts are more and more questioned as need and desire to invent answers, as well as to reformulate the questions asked. The puppet arts do not escape these constant challenges and all the more constant as they reveal visions of dialogue, hope and creativity beyond the borders and differences of traditions and visions. UNIMA is all the more necessary as it not only accompanies the...
News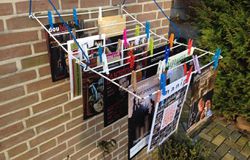 Jenö Virág, editor in chief of Hungarian art and puppetry magazine "Art Limes" shares the first two volumes. "Dear Fellow…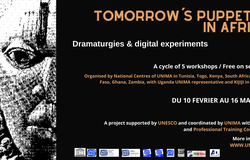 In May were held the last two workshops of the project " Tomorrow's puppetry in Africa ". Second francophone workshop:…
All news from UNIMA
Videos
Photo Galleries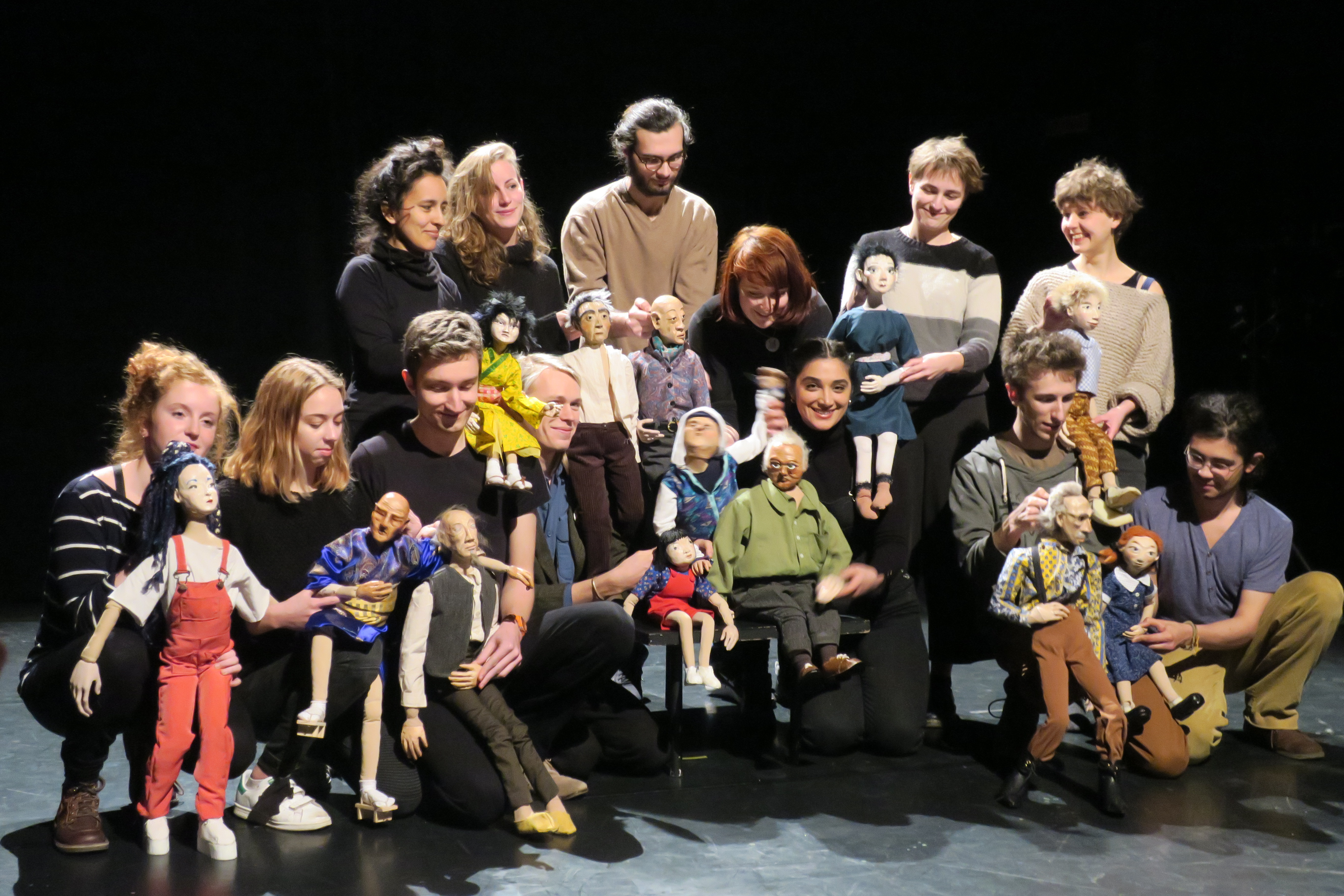 Students of the 11th promotion of ESNAM and their puppets. Photo: Claire Perrus, 2017
All photos
The movement "Women Life Freedom" has been running in UNIMA focusing on women's rights. For the occasion of International Women's Day, 8th March, eight puppeteers from all corners of the world were interviewed by volunteers of UNIMA International about puppet theatre and women's rights in their countries and societies.
The playlist:
Women Life Freedom by UNIMA
The interviewees:
Fatime Ayreek – Afghanistan
Cida Lopes – Brazil
Mamby Mawine – Sénégal
Narguess Majd – Iran/France
Raquel Ditchekenian – Uruguay
Daria Ivanova – Ukraine
Elnaz Sheshgelani- Iran/Australia
Malvine Velo Kapita – Democratic Republic of Congo
Visit unima.org/womenlifefreedom for more contributions by puppetry artists around the world speaking for women's rights.
All videos