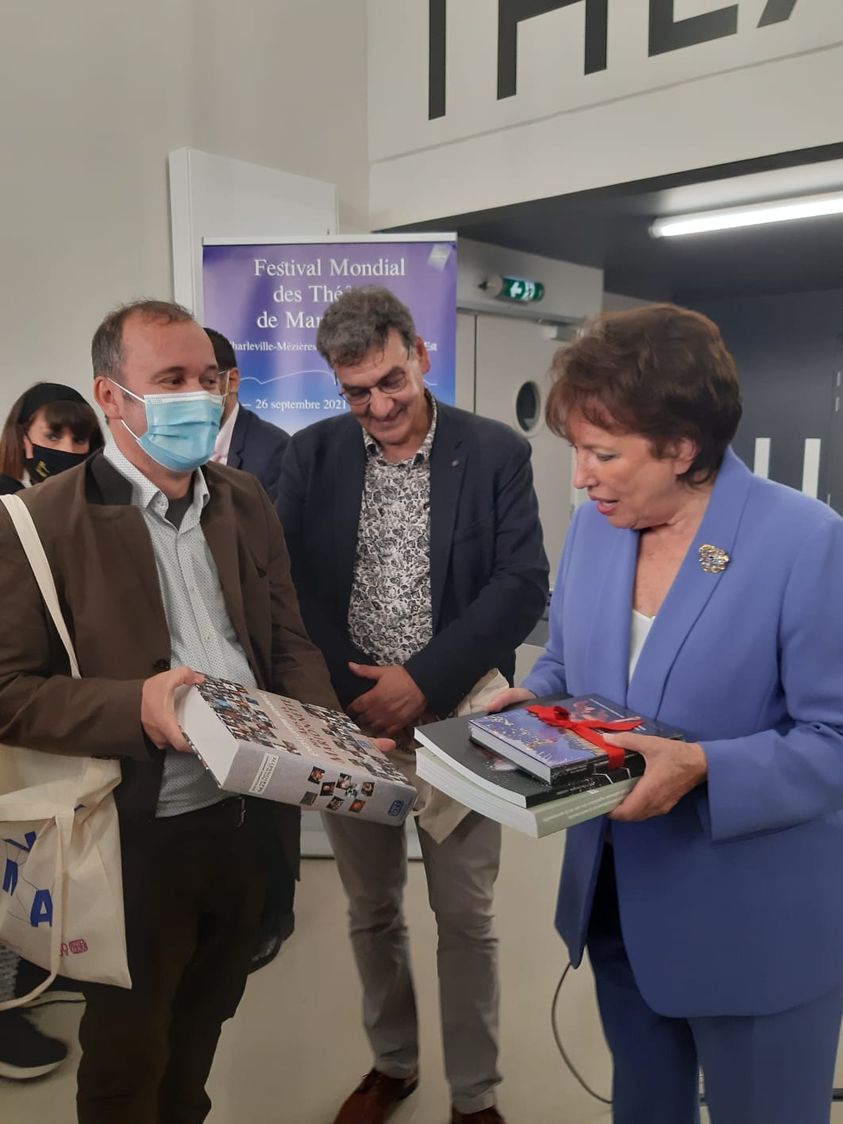 UNIMA showcase at the Charleville-Mézières festival, 2023
UNIMA creates links and often more than links, founding stories for places. All UNIMA meetings create this value of friendship and vision. Charleville-Mézières is a commendable example of a reciprocal friendship that creates tools to support enthusiasm and desire, but also to develop values that are essential to all humanity. From a subsidiary art relegated to the margins, UNIMA has not ceased to promote, to launch projects and to found not only schools, but an ever greater recognition of the puppet arts as a major art. The languages of this art make us universal through the approach of these links and...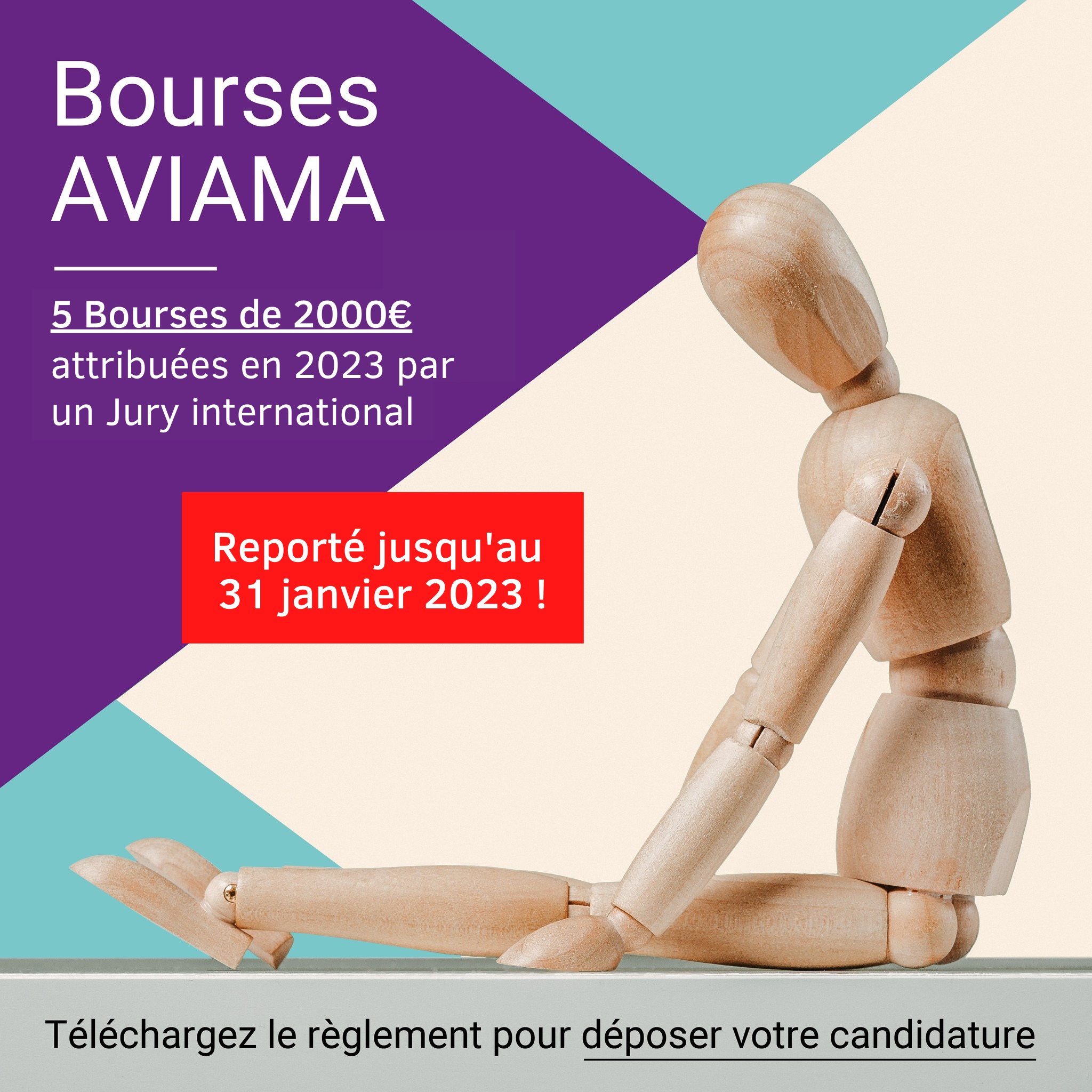 Call for applications – AVIAMA grants 2023 – Puppets and Mobility
The International Association of Puppet Friendly Cities (AVIAMA) brings together cities and local governments around the world around puppetry, convinced of the importance of culture in their development. AVIAMA represents a real network of cooperation and exchanges. For the 5th consecutive year, AVIAMA is launching a mobility aid scheme for projects in the field of puppetry. The deadline for sending applications is Tuesday, January 31, 2023 midnight. The results will be communicated from Friday, April 14, 2023. Sending the complete file by email to contact@aviama.org Objectives of the scholarships They are intended for any person or company having a project involving: Training, Creation,...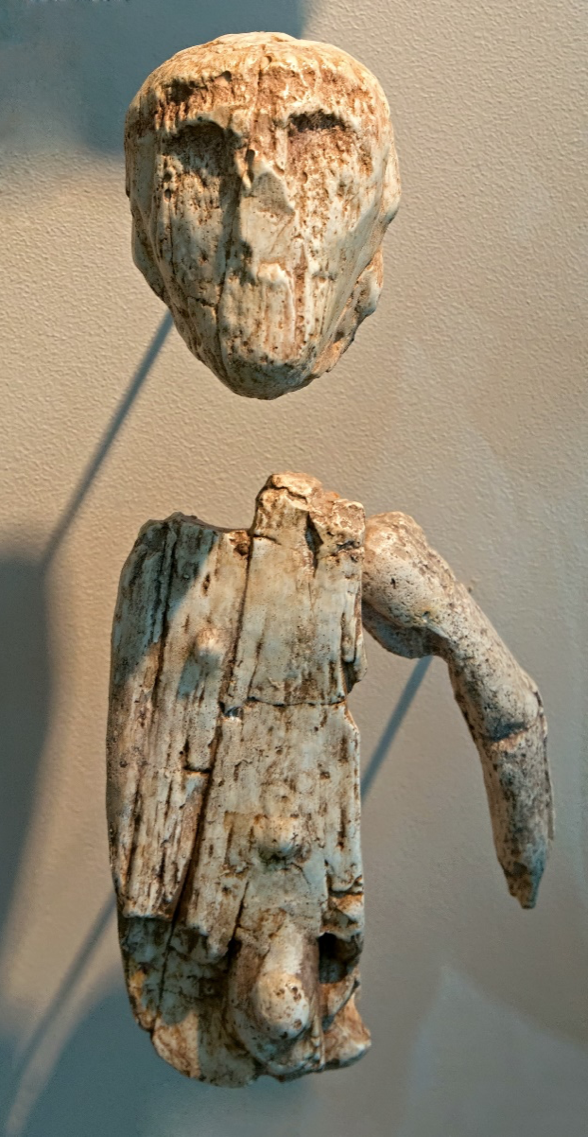 Beyond the thought of the clouds?
In the beginning, a drop of water appeared, which drew the most beautiful shapes; but these were all ephemeral. However hard or complex matter may be, know that it has water as its principle. But all that has water as its foundation has no more reality than a dream, than a mirage. No one has ever considered water as a stable element. How could a construction on water be indefinitely solid? The Conference of the Birds, Farid Ad-Din Attar (1142-1220) To propose a future, beyond everything, beyond political, geopolitical, climate, economic, and public health crises, when bombs are falling, destroying theatres and...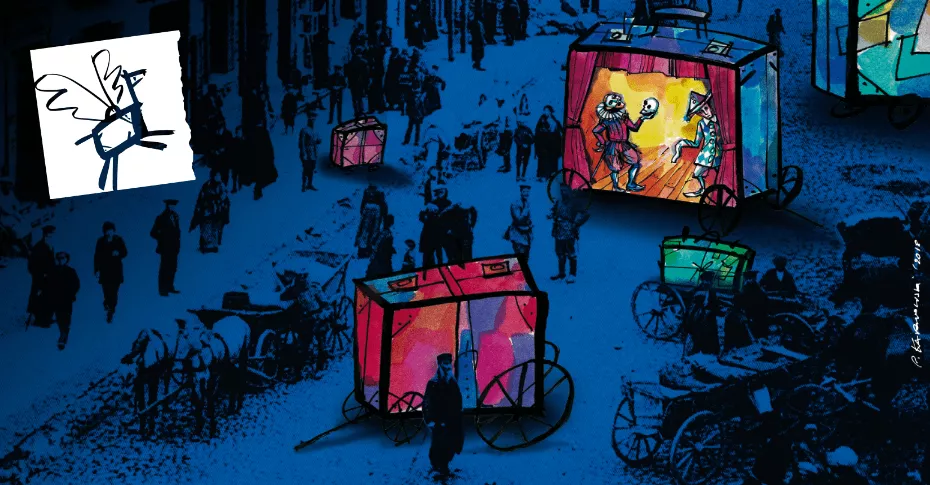 36th International Theatrical Festival VALISE
We would like to kindly inform you that the 36th edition of the International Theatrical Festival VALISE will be held from May 31 to June 3, 2023 at the Puppet and Actor Theater in Łomza. For 35 years, the festival has matured, repeatedly undergone programmatic transformation, reacted to newer and newer trends in contemporary theater, social changes, the history of the changing world and made the dreams of artists come true. Each edition of this important international event enables the flow of artistic ideas, exchange of experiences and provides a space for puppetry meetings in a unique atmosphere. The festival...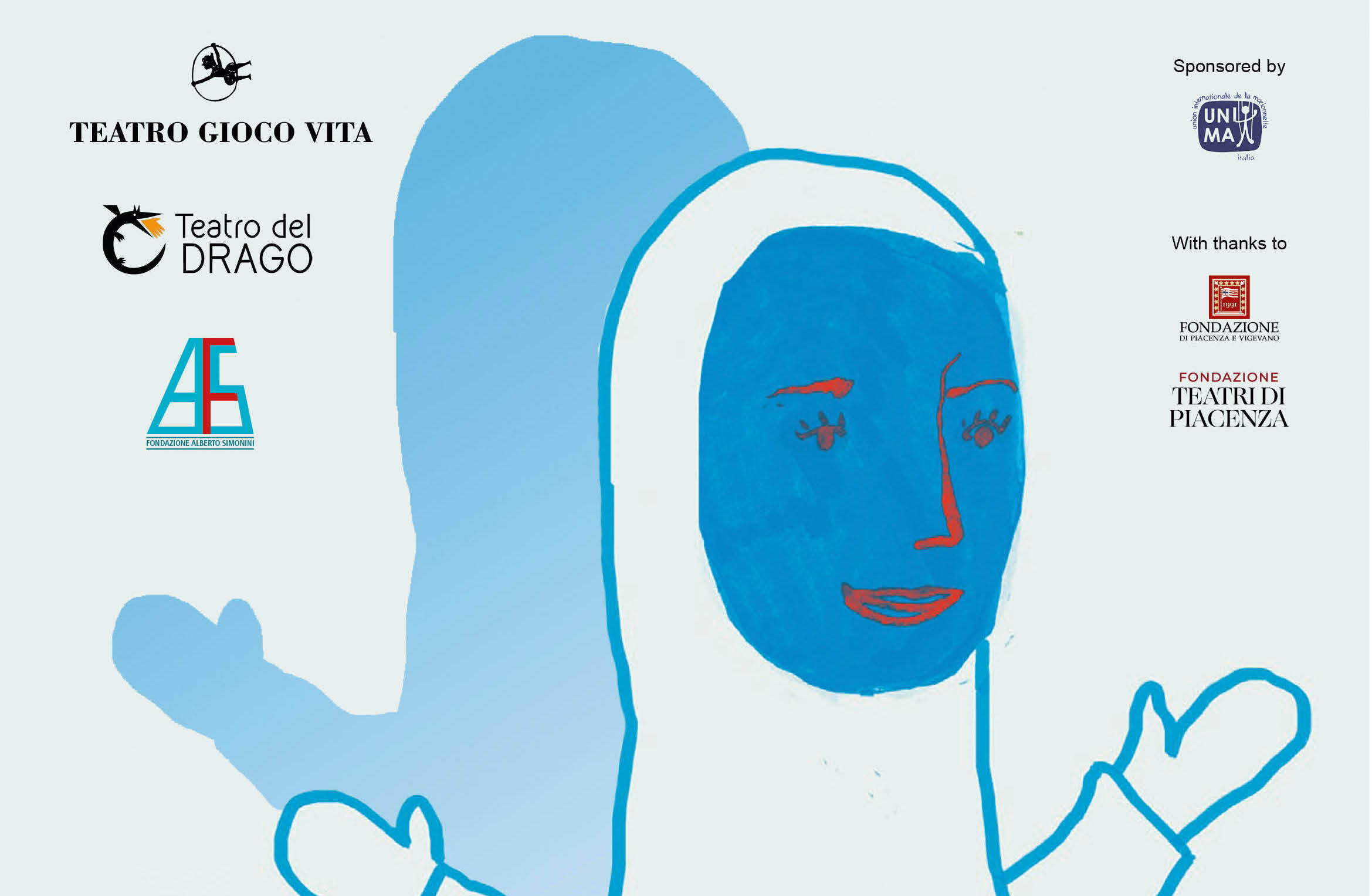 ANIMATERIA 2023 Advanced training course
ANIMATERIA 2023 Advanced training course for puppeteer expert in techniques and languages, analogue and digital, of puppet theatre. Until 31 January 2023 registrations for ANIMATERIA 2023 / IVa Edition will be opened. ANIMATERIA is a specialised training course for promoting and stimulating the practice of contemporary puppet theatre in all its forms particularly, but not exclusively, amongst young and up-and-coming artists, to awaken interest in its extraordinary possibilities for scenic and dramaturgical experimentation. The course, co-financed by the Emilia-Romagna Region and the European Social Fund, is organized by Teatro Gioco Vita, Teatro del Drago and Fondazione Simonini, and will be held in...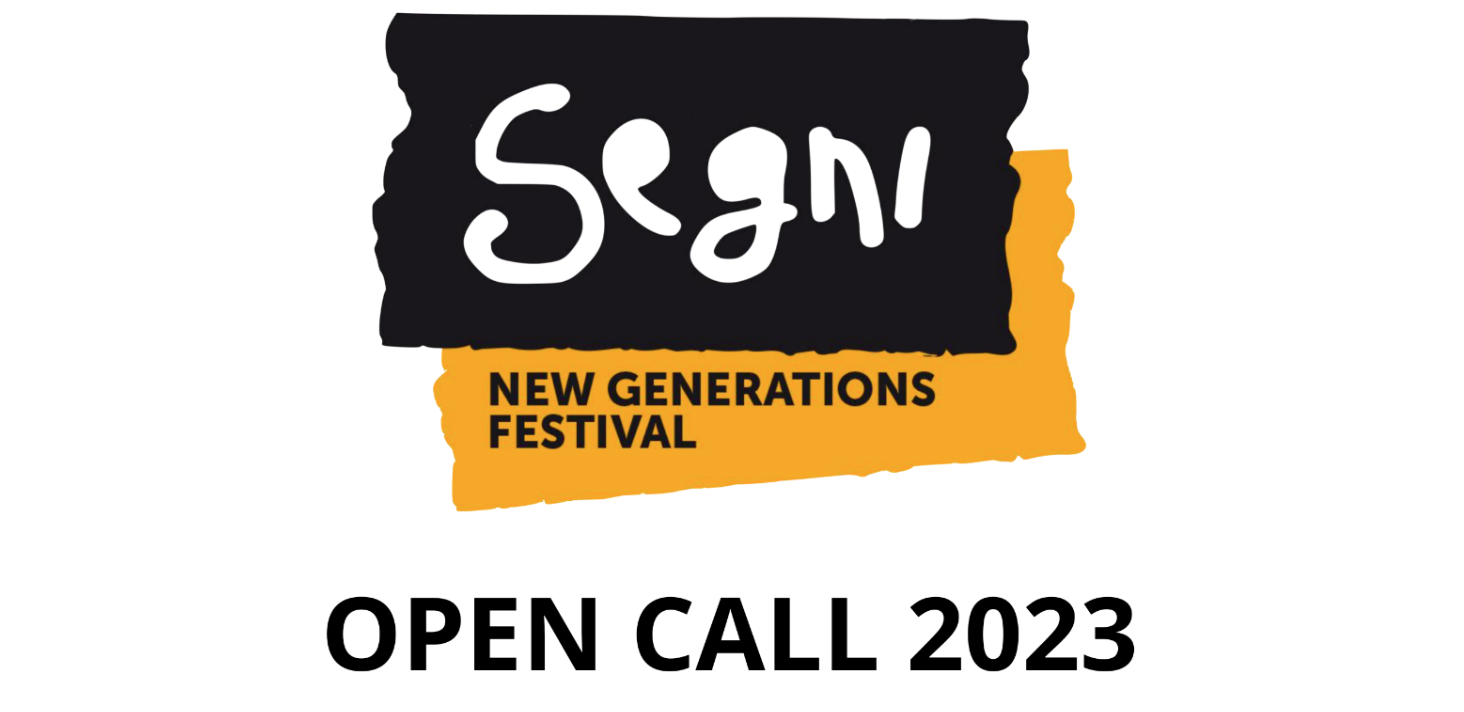 Segni Festival
Below are all the opportunities to participate and co-create with us Festival SEGNI 2023. There is time until December 31 23:59 CET to apply and share your ideas. Apply with a performance Apply to teach a Pasta Madre Masterclass Bring a Teen group to the Festival OPEN CALL: APPLICATIONS OPEN until December 31, 2022 - 11:59 pm CET! We look forward to your submissions, see you soon! For more information: segnidinfanzia.org | segnidinfanzia@gmail.com | +39 0376 752417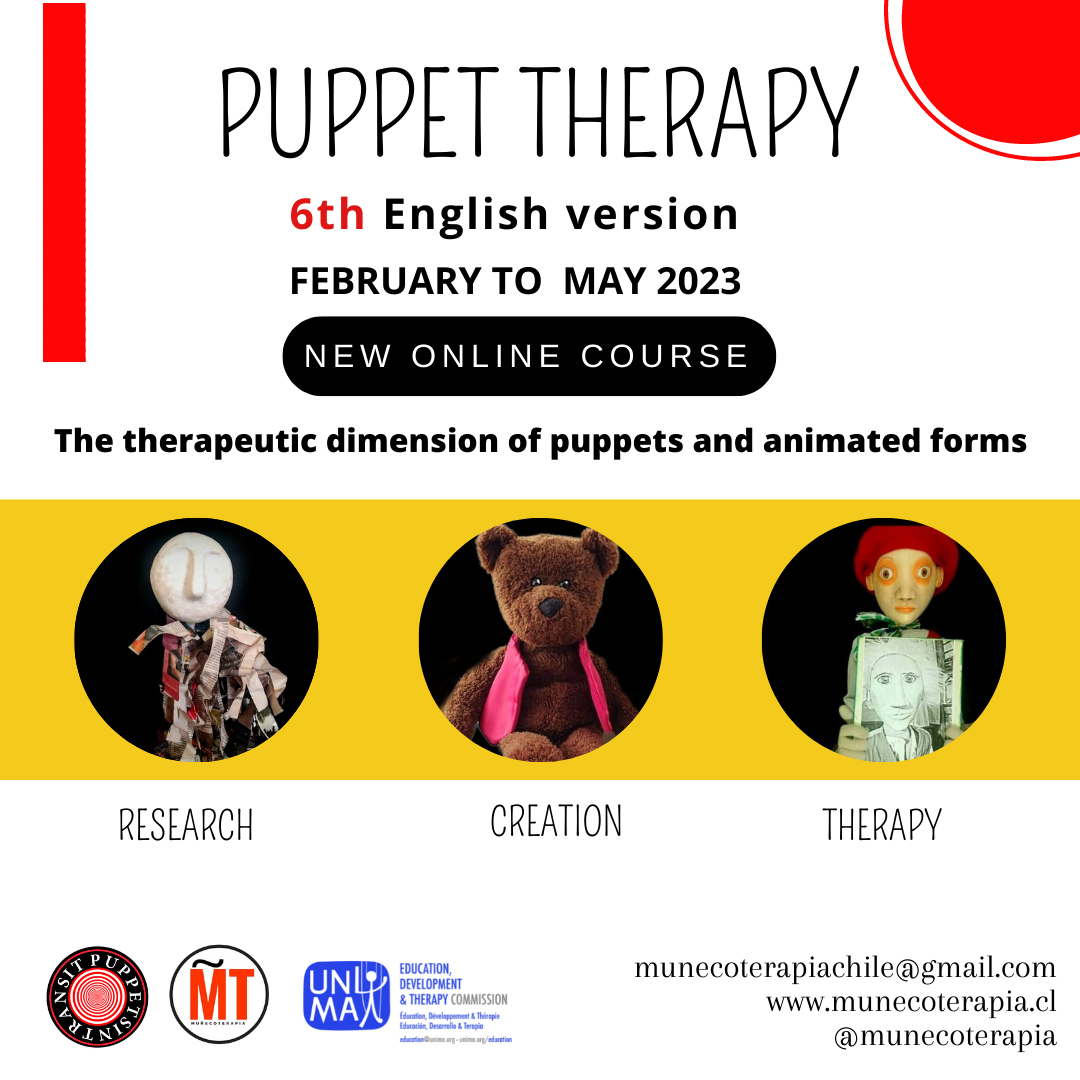 INTERNATIONAL ONLINE DIPLOMA IN PUPPET THERAPY 2023 - 6th English version.
Muñecoterapia Chile invites applicants to the 6th edition of its International Online Diploma in Puppet Therapy. Call and organisation: Muñecoterapia Chile & Puppets in Transit Sponsor: UNIMA Education, Development and Therapy Commission This Online Diploma is designed and focused on the use of puppets and objects in the expressive and therapeutic dimension; to rescue memory and learnt hopelessness. The Puppet Therapy Diploma invites you to be part of a journey where creativity, research, studies, and the exchanging of experiences between students and teachers from different fields and places around the globe, are combined. THE DIPLOMA COURSE IN PUPPET THERAPY COMBINES ✔Theory, practice and research...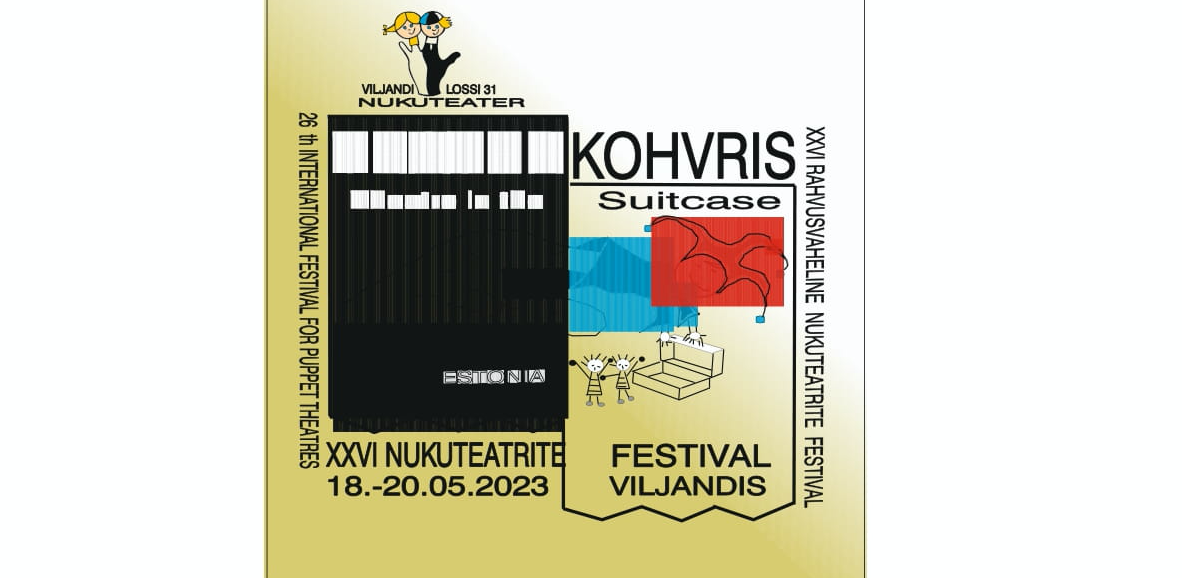 Estonia's 26th International Festival, "Theatre in the Suitcase"
XXVIth international puppet theater festval "Theater in suitcase" / Estonia We welcome You to the 26th International Festival of Puppet Theaters "THEATER IN THE SUITCASE" The Festival will take place in May 18 – 20. 2023 in Viljandi, Estonia From the festival program you will find: * Puppet shows in Viljandi Puppet Theatre and various places in Viljandi * Round tables and discussions after the performances * Different workshops * Evening activities During the Festival every participant will be provided with free accommodation and catering. You have free entrance to all performances and concerts turning the festival. We don`t pay fee for the performances and don't cover transport...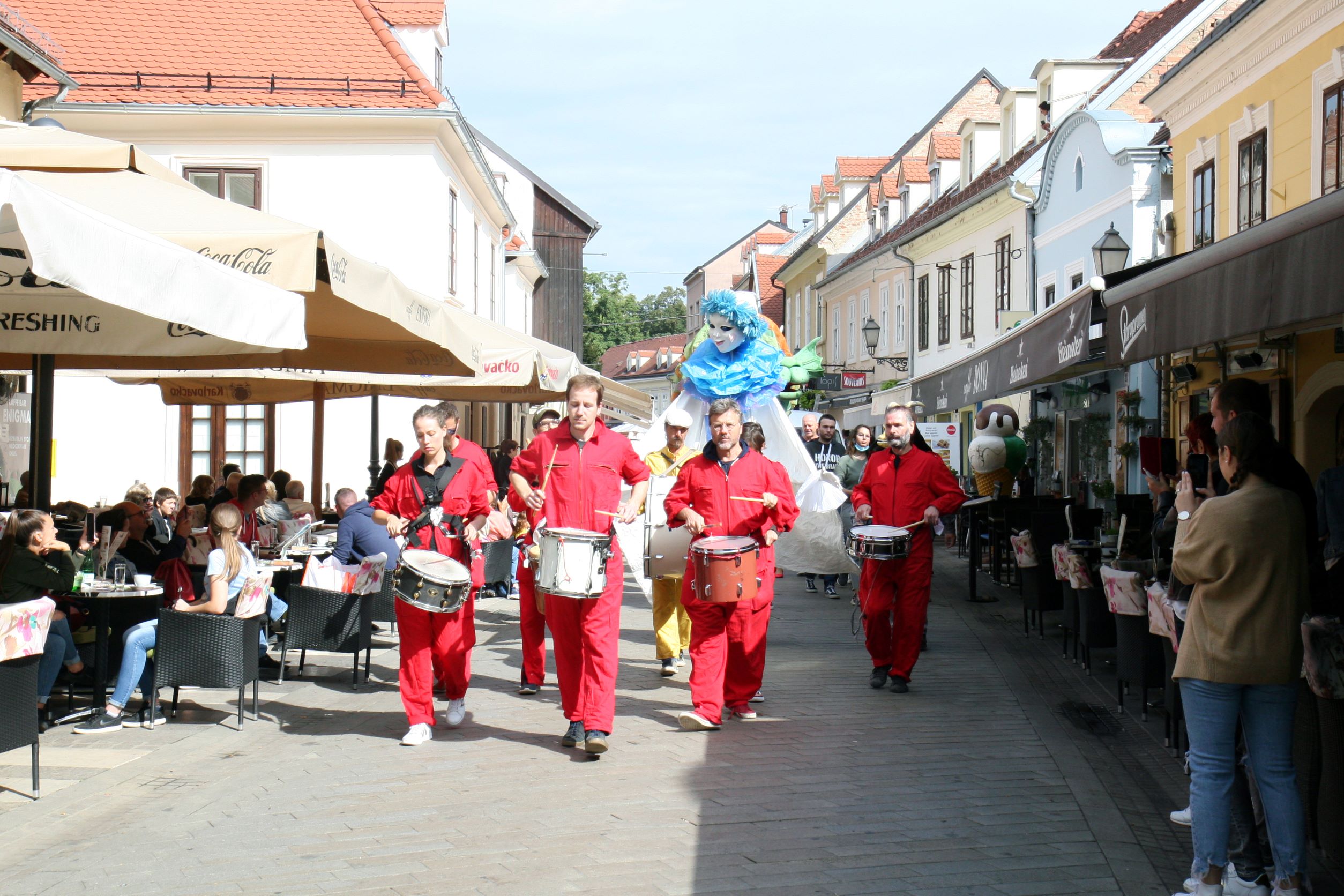 CALL FOR APPLICATION FOR THE 56TH INTERNATIONAL PUPPET THEATRE FESTIVAL– PIF
CALL FOR APPLICATION FOR THE 56TH INTERNATIONAL PUPPET THEATRE FESTIVAL– PIF PIF Croatia invites all puppeteers, puppet theaters, and groups worldwide to submit performances to the 56th International Puppet Theater Festival – PIF. All information about the festival and application form at https://pif.hr/en/2022/10/03/call-for-application-for-the-56-international-puppet-theatre-festival-pif/ The deadline for submitting application forms is January 31, 2023.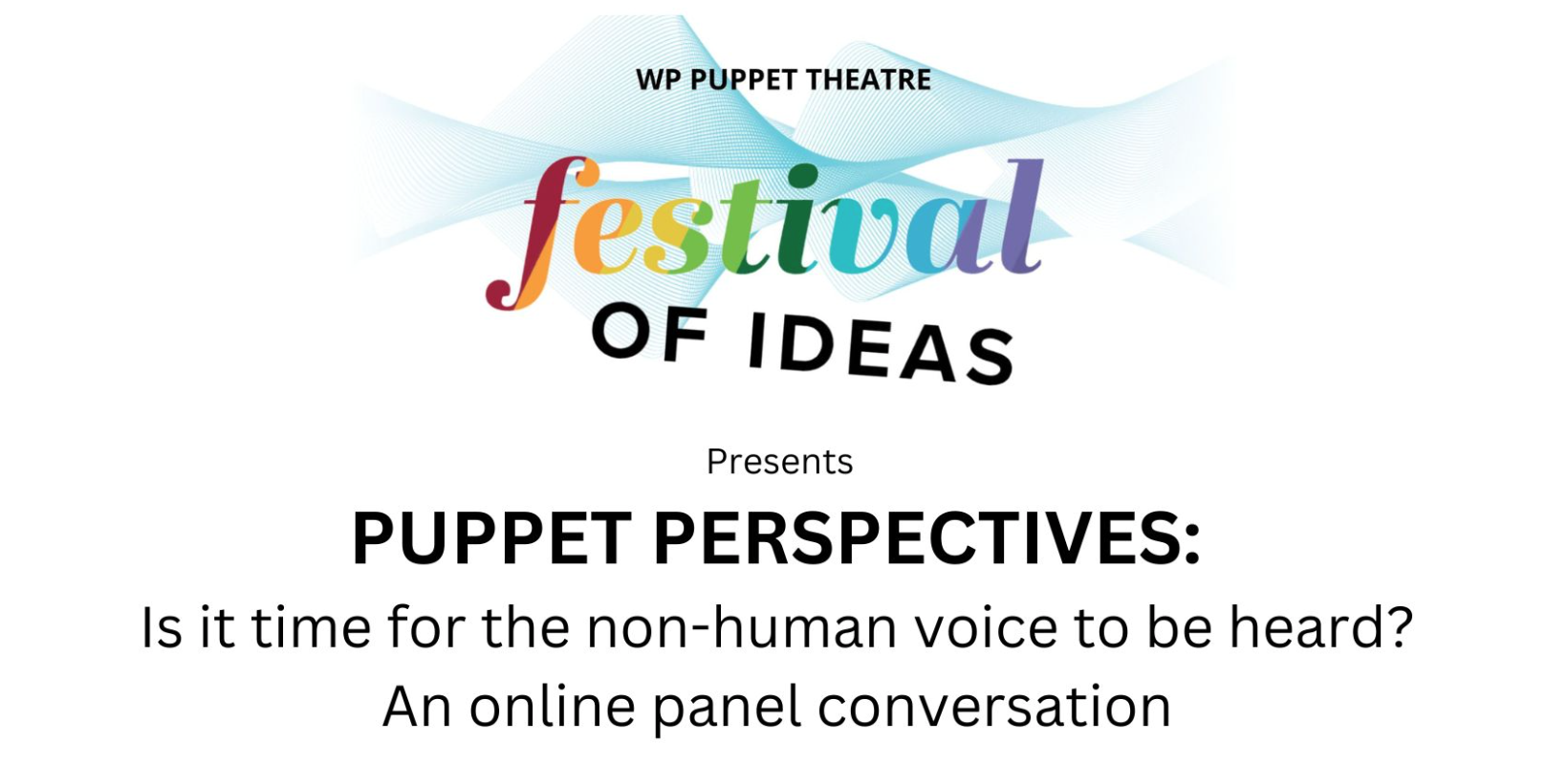 Puppet Perspectives – an online conversation
November 19 2022, 2:00 pm - 3:00 pm MST Free Puppet Perspectives – online conversation Is it time for the nonhuman voice to be heard? Sentience is in question. Personhood is at issue. Anthropocentrism is challenged. WP Puppet Theatre's Festival of Ideas explores the power of puppetry, as applied in areas of social justice, community issues and cultural anthropology. Sometimes it is crystal clear that puppetry can be a tool for teaching literacy, grab attention in a parade for social action or build community through sharing cultural traditions. In this case of non-human perspectives or different points of view are puppets are relevant? And if so how? Are...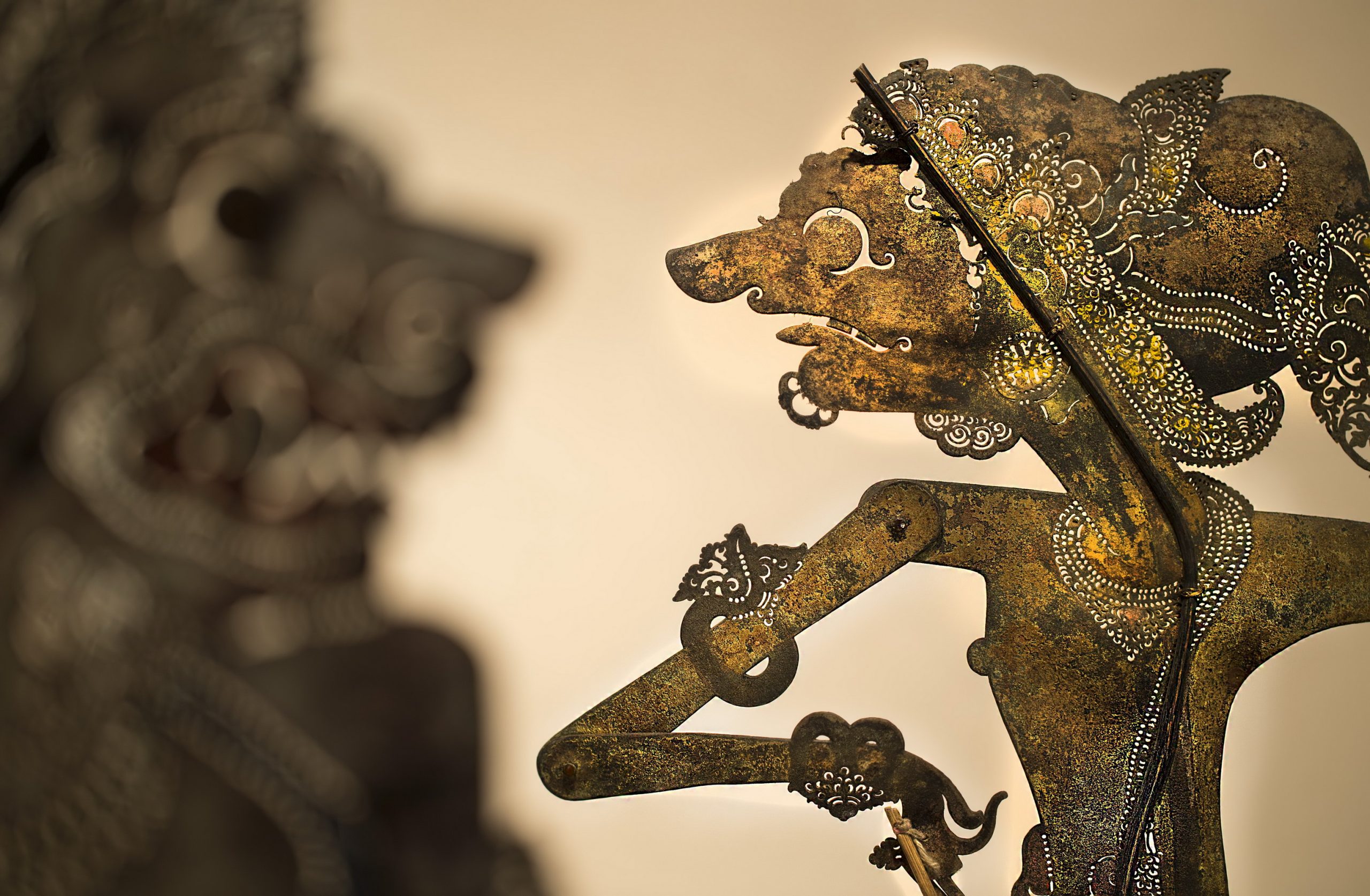 « On Participation and Solidarity» A letter from the General Secretary
27th October 2022 THREADSUNS above the greyblack wastes A tree- high thought grasps the light-tone: there are still songs to sing beyond mankind (Paul Celan, 1968. Translation by Pierre Joris) Dear Presidents, Councillors, members and friends, In a world more and more upset, the arts are more and more questioned as need and desire to invent answers, as well as to reformulate the questions asked. The puppet arts do not escape these constant challenges and all the more constant as they reveal visions of dialogue, hope and creativity beyond the borders and differences of traditions and visions. UNIMA is all the more necessary as it not only accompanies the...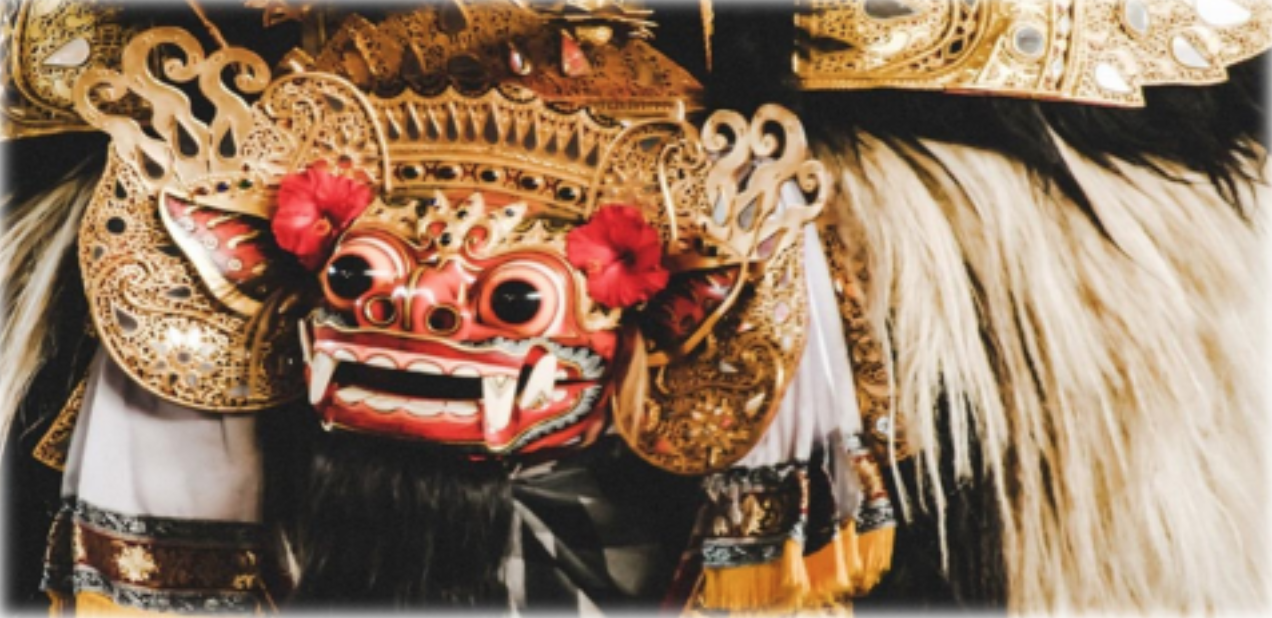 Council 2023 - Registrations open
Registrations for Bali Council 2023 are open! For more details, visit our Council page here. The meeting of councillors and the Executive Committee will take place from Wednesday, 26 April 2023 until Sunday, 30 April 2023. Options to attend physically or virtually are available. To register, download the registration form (click here) and mail it to unima.or.id@gmail.com. Register by 30th November for an early bird discount (applicable only to physical registrations). Do write to info@unima.org for any queries.

Chuncheon-AVIAMA-UNIMA, 2022
With the support of the City of Chuncheon, the initiatives of its mayor Yook Dong-han, and the support of the Korean Ministry of Culture, the 2022 General Assembly of AVIAMA (International Association of Puppet Friendly Cities) was held in the presence of representatives of UNIMA, the founders of AVIAMA, with the presence of representatives of Bialystok (Poland), Saguenay (Canada), Tournai (Belgium), Iida (Japan), France and its other members (Czech Republic, Taiwan, Spain, France, etc) by videoconference. The 10th anniversary of AVIAMA was celebrated on this occasion. UNIMA Korea also invited its colleagues from all continents of the globe to have...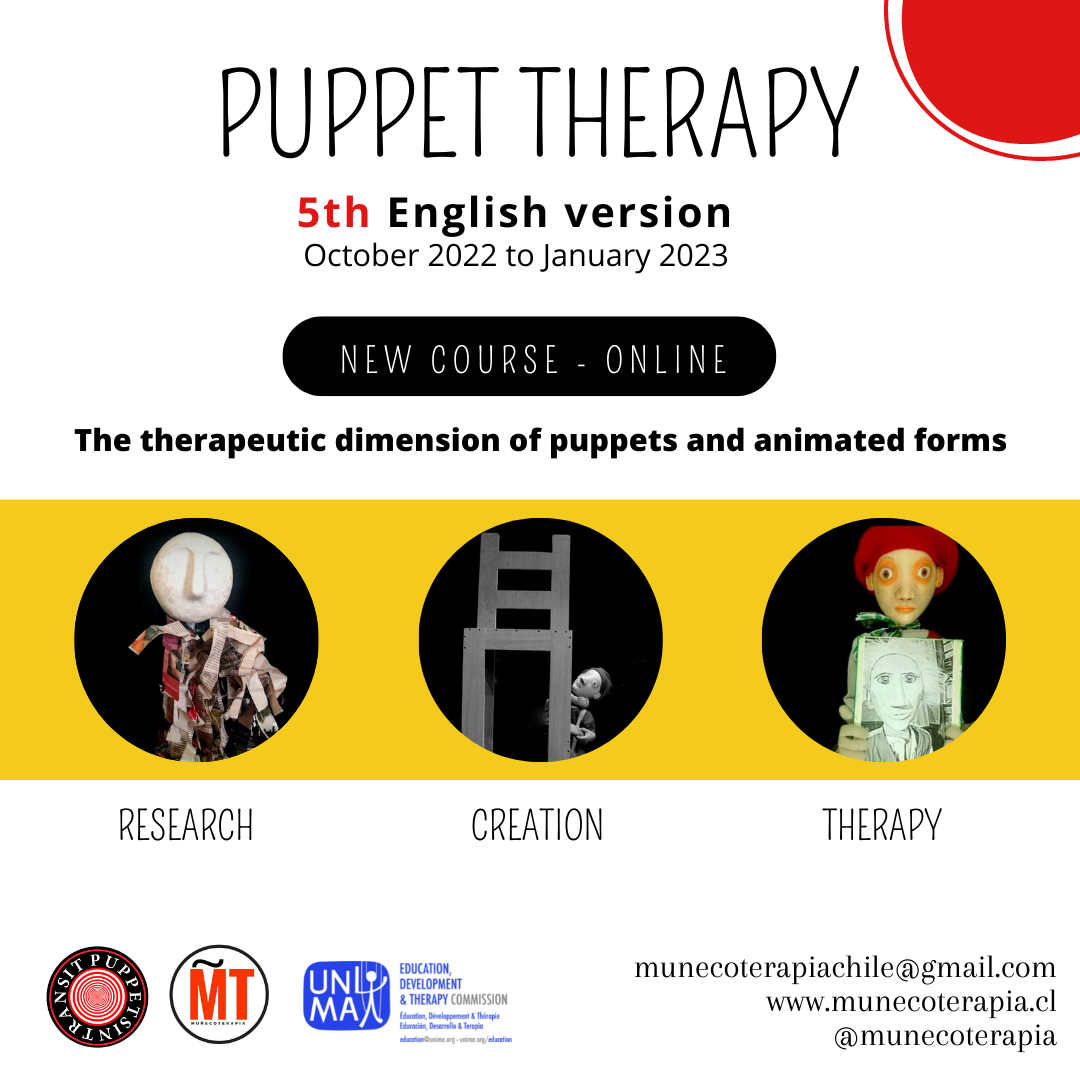 INTERNATIONAL ONLINE DIPLOMA IN PUPPET THERAPY 2022 – 5th English version
Muñecoterapia Chile is calling all the applicants for the 5th version of its International Online Diploma in Puppet Therapy. Call and organize: Muñecoterapia Chile & Puppets in Transit
Sponsor: UNIMA Education, Development and Therapy Commission This Online Diploma is designed and focused on the use of puppets and objects in their expressive and therapeutic dimension; to the rescue of memory and learnt hopelessness. The Puppet Therapy Diploma invites you to be part of a journey where creativity, research, studies and the interchange of experiences among students and professors – from different fields and places around the globe – are combined. THE DIPLOMA COURSE...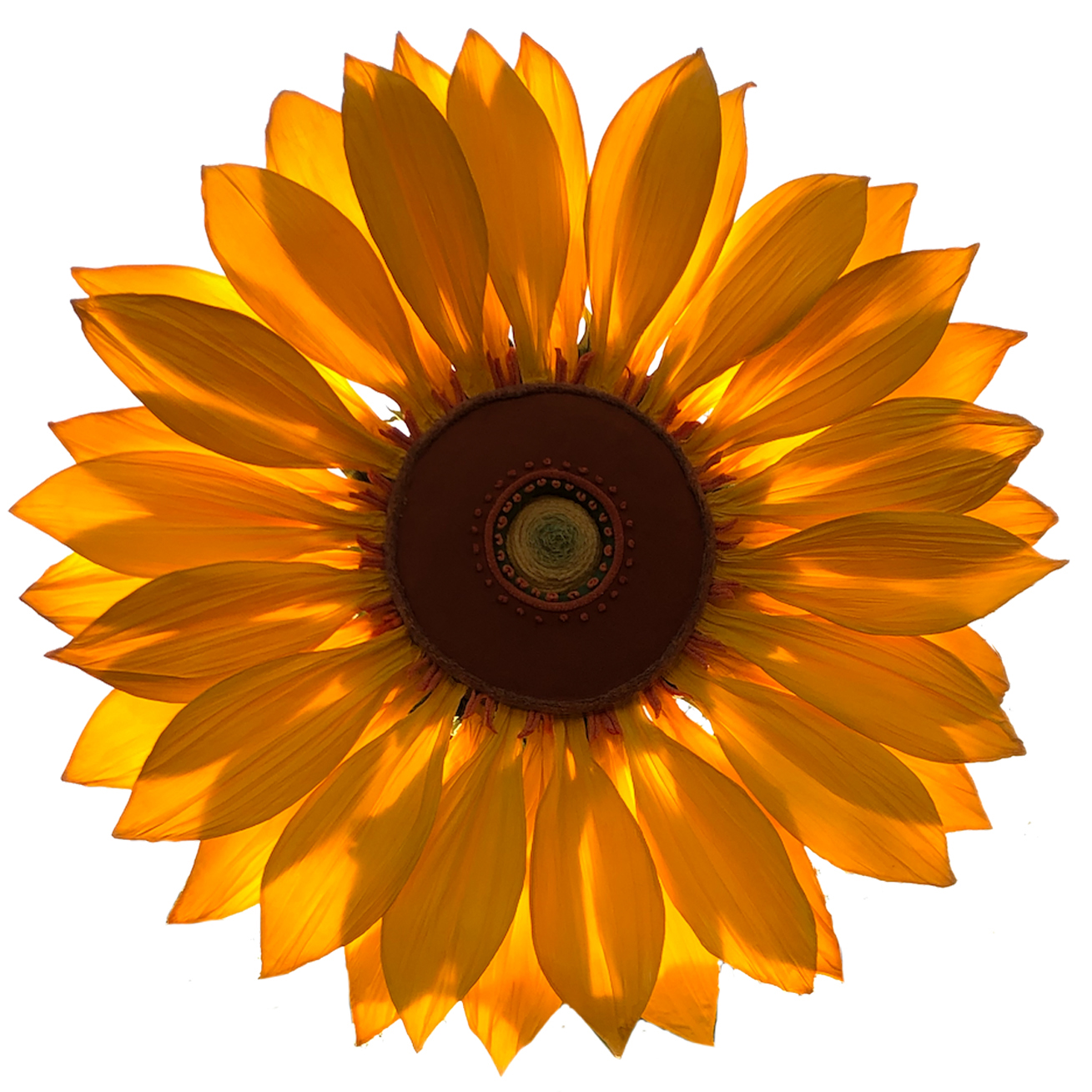 Nordic Puppetry Supports Ukraine Puppeteers
Sunflower made by Atelier Pisto "Due to the war in Ukraine, we are a group of theatre people in Denmark, Norway, Sweden, Finland and Iceland who have joined forces to initiate initiatives to help our colleagues in Ukraine. We are a collaboration between freelance theatre people and Unima in the Nordics, and we are all deeply appalled by the brutality of the war. Hence this collaboration, which has a focus on people who work professionally with puppet theatre in Ukraine, a form of theatre that has old and proud traditions in the country. Ukraine has two schools for education in animation theatre,...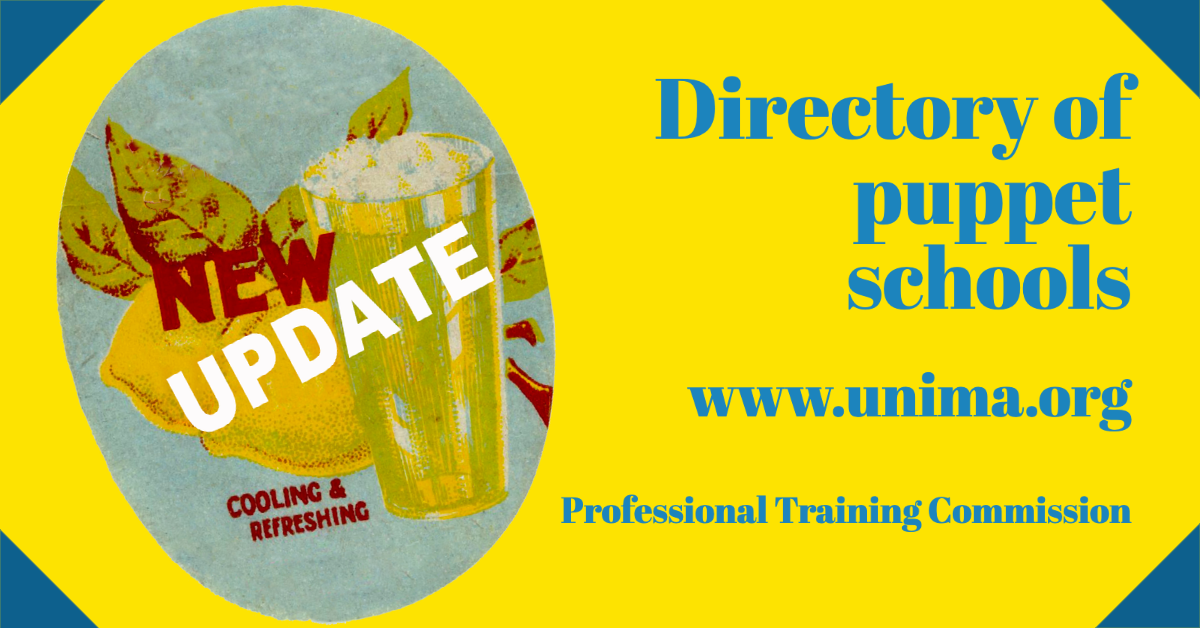 Directory of puppet schools
The Professional Training Commission of UNIMA has the project of updating the list of universities, schools and institutions with professional training programs in theater of animated forms, puppets and objects. This map, continuously updated, aims to communicate and make better known the whole, the richness and the diversity of the professional training proposals in the world today.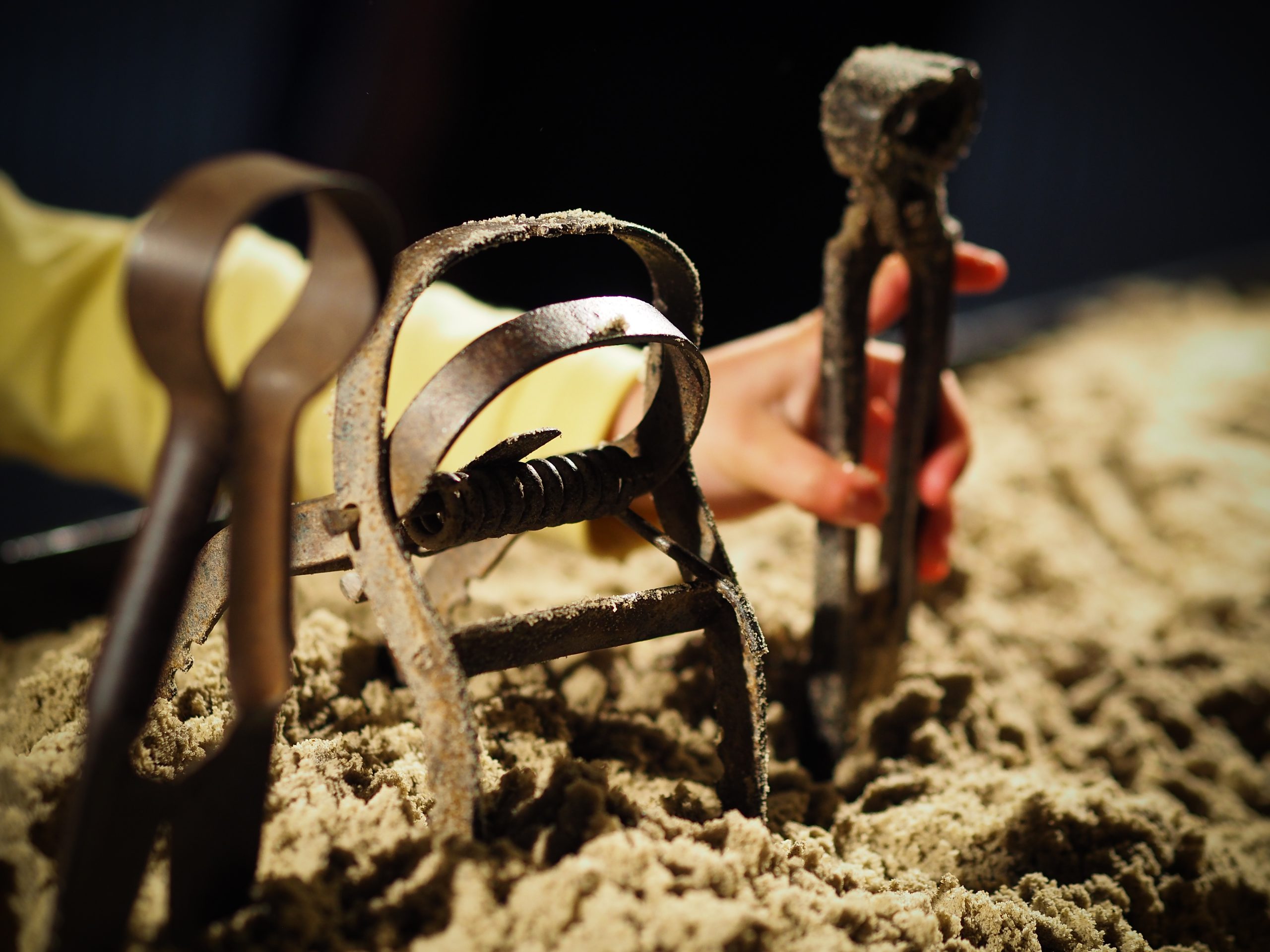 « On the need to dream » Annual report of the Secretary General
Following the physical and digital meeting of the Executive Committee of UNIMA International, Pilsen, 7-9 June 2022 Piece out our imperfections with your thoughts. Into a thousand parts divide one man, And make imaginary puissance. Think, when we talk of horses, that you see them Printing their proud hoofs i' th' receiving earth, For 'tis your thoughts that now must deck our kings, Carry them here and there, jumping o'er times, Turning th' accomplishment of many years Into an hourglass... (Shakespeare, Prologue, Henry V) Image insert: "To Have or Not to Have?", Tamtam Objektentheater
Photograph by Dasha Knerova This year has been marked...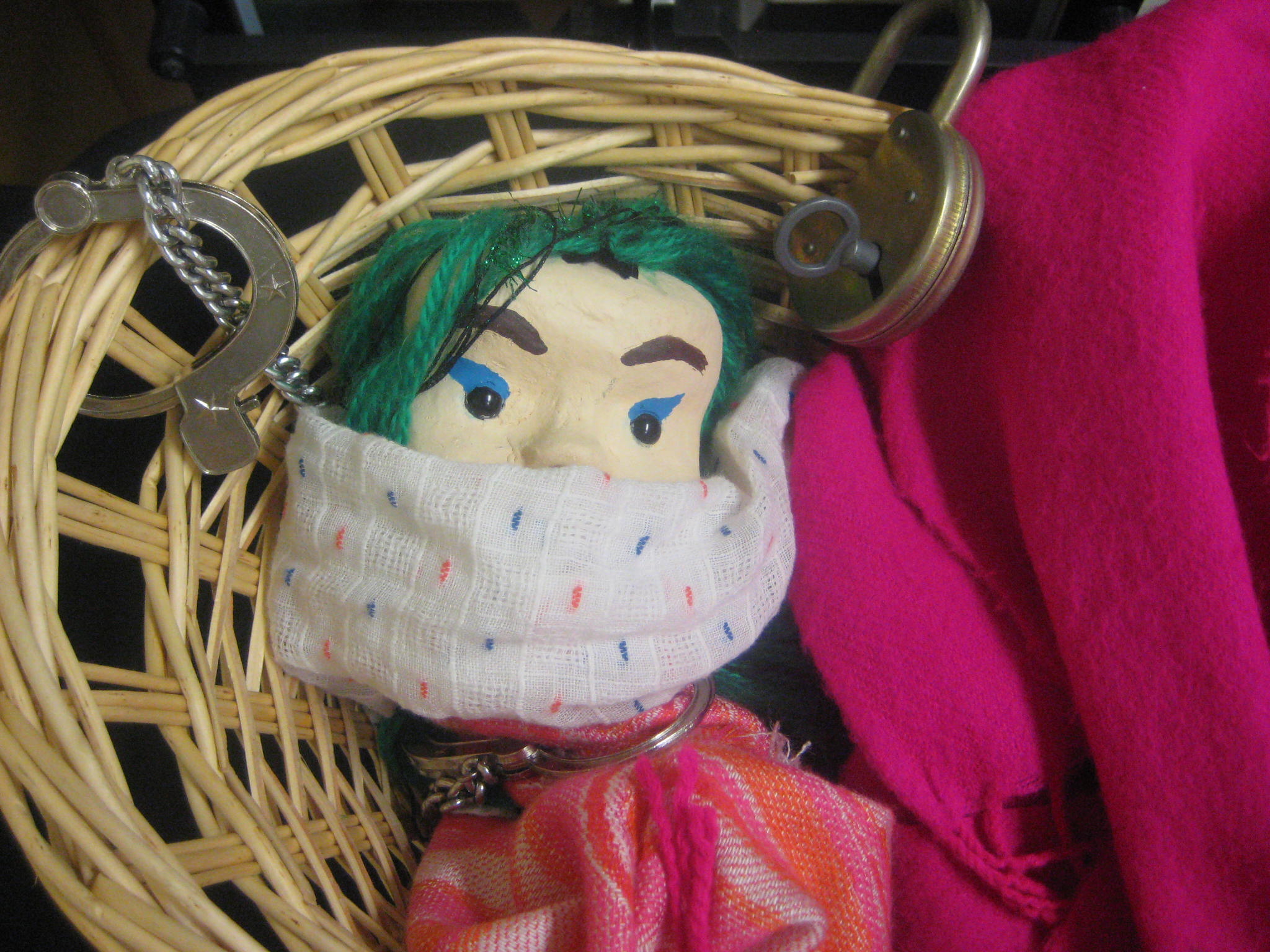 Trauma and Puppetry Handout
This compact document from the EDT Commission combines basic information about an emergency reaction to trauma combined with aspects of basic puppetry. It will give practical advice and be an inspiring introduction for puppeteers, helpers, educators, therapists and everybody who is touched by the great possibilities of puppetry. There are versions in different languages. Feel free to share. . Download the document : In English > Traumatic emergency reaction and puppetry In French / en français > Réaction d'urgence traumatique et jeu de marionnettes In German / auf Deutsch > Akute traumatische Notfallreaktion und Puppenspiel In Spanish / En español > Titeres...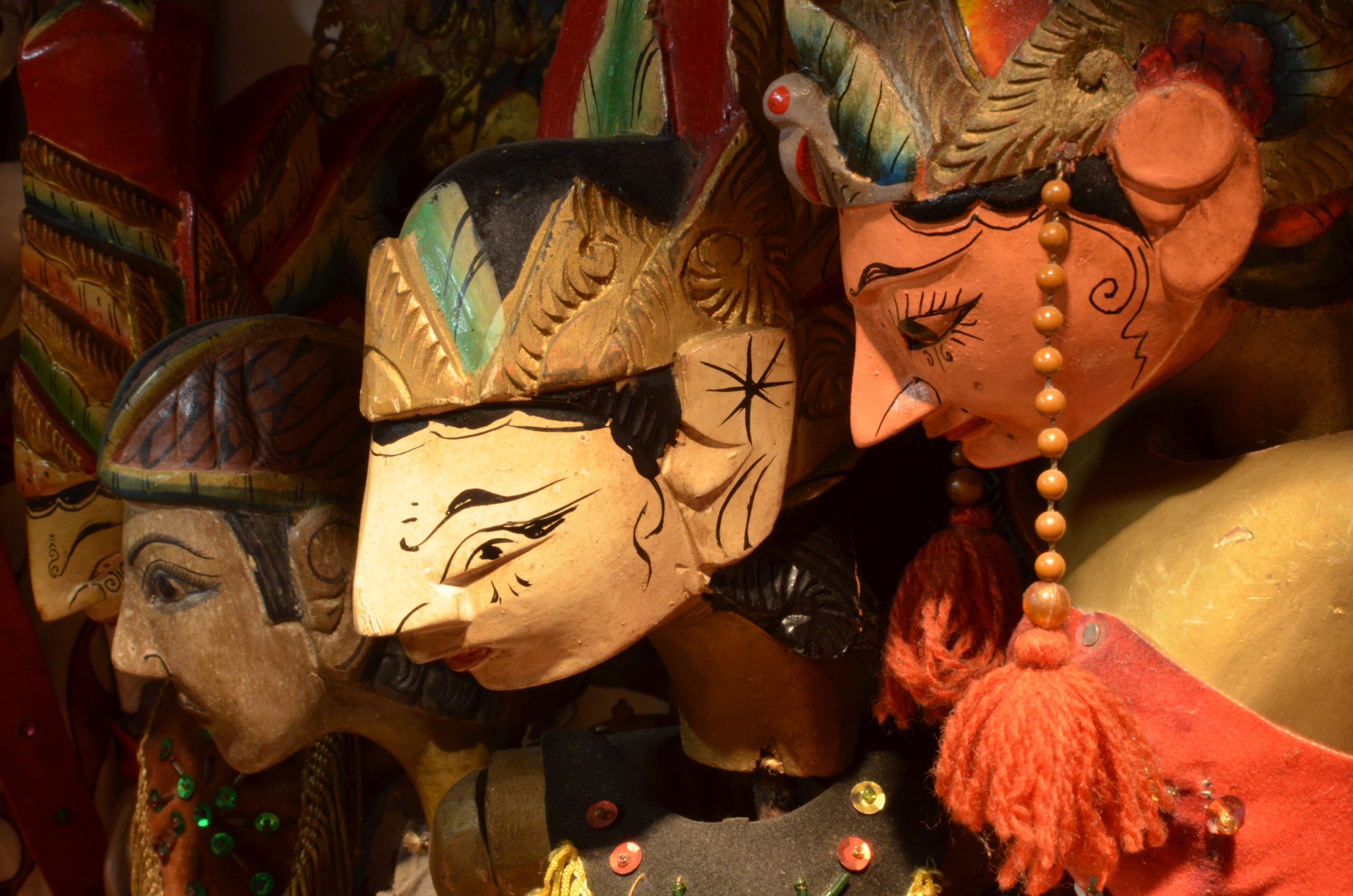 Convocation Bali Council 2023
« In Times of Need » Call to members, Councillors, and friends for the 2023 UNIMA Bali Council "Lucidity is the wound closest to the sun"(René Char, Feuillet d'Hypnos) . Dear Presidents, national and international Councillors, members, friends, The pandemic has paralysed us, wars strike and kill, populations die indiscriminately, and cultures struggle not to succumb to the irreversible and to the state of affairs of the most powerful. Solidarity and human rights mourn a reality that words cannot describe. Is power the demonstration of the right of the strongest? Can the thousands of indiscriminate killings and deliberate cruelty erase all hope of dialogue and creation?...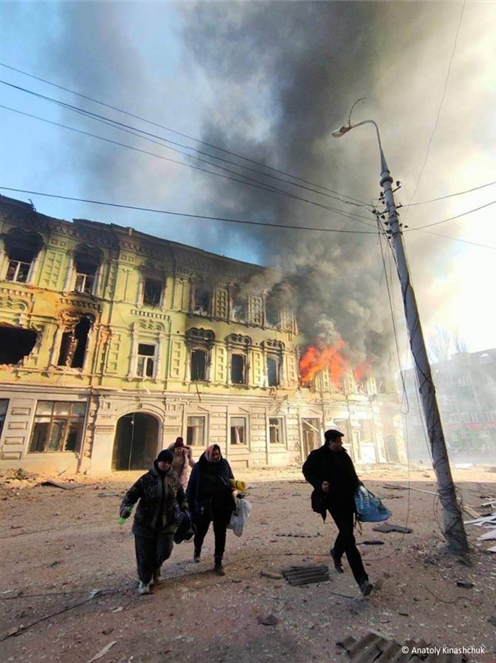 Mariupol puppet theatre artists get Michael Meschke international award
The Mariupol Puppet Theatre, situated not so far from the bombed Municipal Theatre, has been destroyed and its artists are dispersed in and around the martyr town of Mariupol. Information concerning their whereabouts is scanty. The theatre was founded in 1995 by director Iryna Rudenko. It included a company of over twenty artists, apparently working basically with children. Eight hundred children visited the theatre each month for creative activities. Director Rudenko is now struggling to re-unite the company, whether it will be possible in Mariupol or elsewhere. As a sign of solidarity and encouragement, the ninth, bi-annual "Michael Meschke international...
News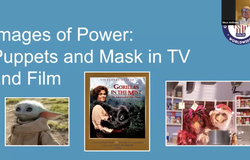 The UNIMA-USA board of directors in Spring 2021 resolved to explore the uses of Zoom to spotlight some of the…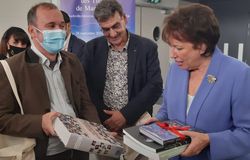 UNIMA creates links and often more than links, founding stories for places. All UNIMA meetings create this value of friendship…
All news from UNIMA
Upcoming events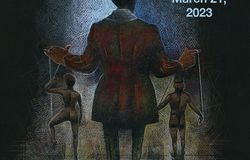 What is World Puppetry Day? Launched in 2003 by UNIMA, the World Puppetry Day is both a real tool for the…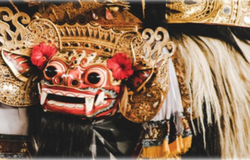 The next UNIMA Council meeting between the 2021 digital Congress and the 2025 Congress in Korea is hosted by the…
Videos
Photo Galleries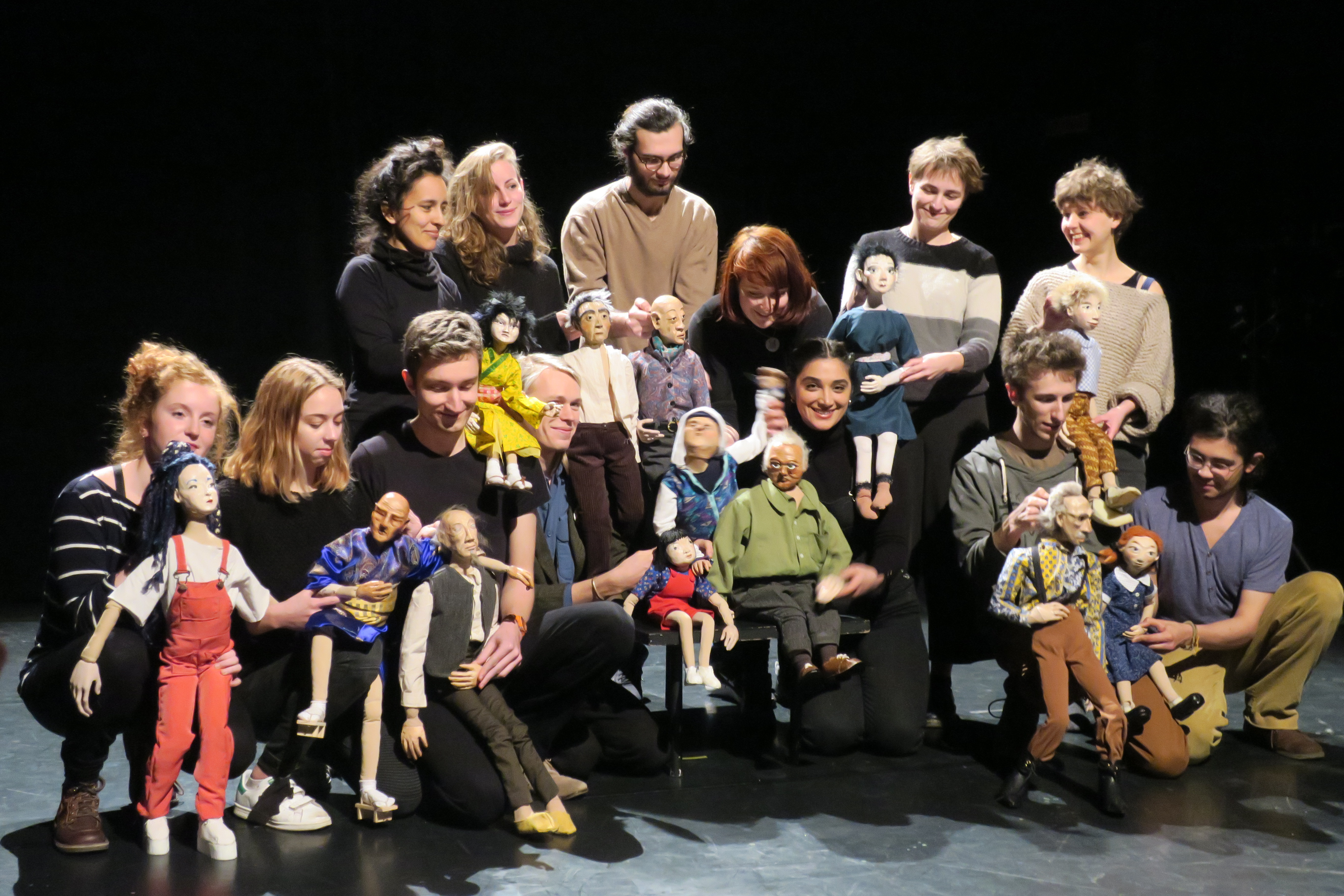 Students of the 11th promotion of ESNAM and their puppets. Photo: Claire Perrus, 2017
All photos