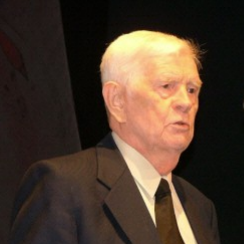 Henryk Jurkowski (1927 - 2016) - Poland
Polish historian and theoretician of the puppet theatre, theatre critic, playwright and university professor, Henryk Jurkowski was graduated and he was responsible for the puppetry section, as officer in the Polish Ministry of Culture, being professor in the puppetry schools in Poland, in Wroclaw, in Białystok.
He has taught, as a guest professor, in many puppet theatre schools. Amongst his plays for puppets, several ones got great success: Polish Popular Nativity Scene (1969), The Old Polish Trypticon (1972: Judith and Holofernes, The Prodigal Son, The Martyrdom of Saint Dorothy).
Henryk Jurkowski was Secretary General from 1972 to 1980. During his mandate, he restructured the UNIMA, he created a publication (The UNIMA's Information), as well, he established specialized Commissions. He was co-founder of the Institut International de la Marionnette in Charleville-Mézières; he was Vice president (1980-1984), then President (1984-1992). In 1992, he was made Honorary President of UNIMA.
Author of many books, studies and essays on puppetry published in many languages, Henryk Jurkowski was editor-in-chief from 1994 to 2002 of UNIMA's World Encyclopedia of Puppetry Arts and scientific councillor for the World Encyclopedia of Contemporary Theatre (1994-1999).