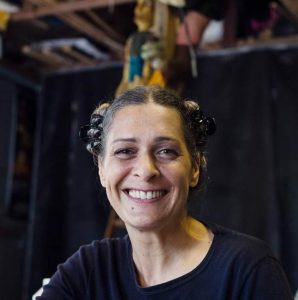 Beth Bado – Brazil
Beth Bado is a Brazilian puppeteer. Her encounter with Arts started with Classical Ballet and Jazz as a child. Later, research in theater and active production of cultural and artistic events. In 2004 she decided to get fully engaged with Puppetry. Her passion for glove puppetry took her to perform in many cities in Brazil and in other countries such as Argentina, Uruguay, Peru, Bolivia and France. Beth studied Philosophy and Public Relations. Along with her partner, Nelson Haas, she works with vulnerable children and teenagers using puppets as a tool for artistic expression and citizen development. Their work is based on the triad 'actor-puppet-audience' which is a tribute to the long-forgotten times where simplicity used to be the artist's universal language. The Bonecos da Montanha (their group), is environment-preservation oriented, prioritizing re-used materials thus reducing the impact of their performances on the planet. Beth Bado is currently the vice-president of ABTB (Brazilian Puppetry Association), an entity that represents UNIMA (Union Internationale de La Marionette) in Brazil.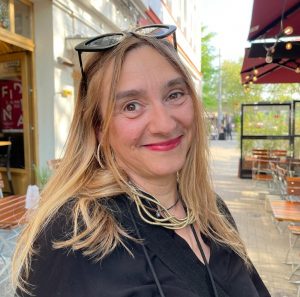 Roberta Colombo – Italy
Roberta Colombo (1964) is an Italian actress, graduated in 1991 at the University of Bologna in D.A.M.S., Disciplines of the arts, music and show. She was involved in Theatre research with a degree in Theatre about the Management of Italian Theatre in the XVIII century in North Italy. She published books on this topic and worked as an actress for different Italian puppet and youth Theatre companies (1987-1998). Roberta took a Master in Business Theatre Management (1997). Since 1997 she has been playing as an actress and author for Teatro del Drago/Famiglia d'Arte Monticelli in Ravenna. Roberta was a Member of the Italian Unima Board (2000-2008) and for a short period of time she was also Italian National Secretary. Since 2016 she has been correspondent for two UNIMA International Commissions: Contemporary Publication and Writing and Festival Commission. Since 2003 until now Roberta has regularly led teaching experiences for primary and lower secondary school and since 2019, she has been a teacher for the professional training course for Puppeteer: ANIMATERIA – a high level course created together with Teatro Gioco Vita and Fabrizio Montecchi.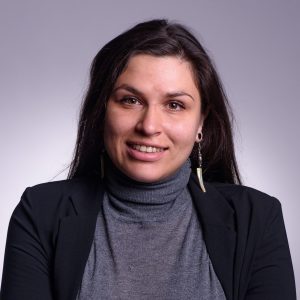 Svetlomira Stoyanova – Bulgaria
Svetlomira Stoyanova is a member of UNIMA-Bulgaria and has education in the University of Economics in Varna, Bulgaria (2010-2014) and in the National Academy for theater and film arts in Sofia, Bulgaria – Bachelor in theater studies (2014-2018) and Master in Management in Stage and Performing arts (2019-2020). Svetlomira is interested in independent theater productions and so she worked for the Association for Independent theater as a Communication coordinator (2018-2019) and jury for Bulgarian performances (2019). She was the manager of the national project of the Union of Bulgarian Artists – CONGLOMERATE, which took part in the Prague Quadrennial in 2019. Svetlomira worked in the National Culture Fund (part of the Ministry of Culture) – Bulgaria as an Expert for Programs and projects (2020-2023) and as such took part in meetings of the International Federation of Arts Councils and Culture Agencies (IFACCA). She has been managing stage related projects from 2015-2020. In 2023 she was selected as jury for the prestigious theatrical "IKAR" Awards  in Bulgaria – she was part of the jury for the puppet performances. Regarding her education as theater critic she has visited national and international festivals and wrote about them in established magazines. Since 2015 she has been writing articles for "KulArt" Magazine – the only professional magazine for puppet theater in Bulgaria.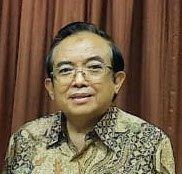 Dimas Samodra Rum – Indonesia
Dimas Samodra Rum was born in Bandung in 1955 and spent all his life studying in this city. He graduated from University Padjadjaran Faculty of Social Sciences Majoring International Relations in 1982. He joined the Ministry of Foreign Affairs of the Republic of Indonesia (MoFA) in 1983 and pursued all his careers in the ministry. During the years he was appointed at the Embassy of Indonesia in London (1986-1990), he was also entrusted with a diplomatic posting in Tokyo, Japan (1993). Even though he held numerous important positions during the years, a significant highlight in his career came when he served as the Consul General of the Republic of Indonesia in Marseilles, France, from 2004 to 2007. During his tenure, he organized numerous Indonesian cultural events in cities across Southern France. Dimas Samodra Rum retired from the Ministry of Foreign Affairs in 2016 and in 2017 joined UNIMA Indonesia and was named as one of the UNIMA Indonesian councilors. As a member of UNIMA Indonesia he had the opportunity to visit China for the 6th China Quanzhou International Puppet Show in 2019. He is a vice Chairman of the UNIMA Indonesia and Organizing Committee for UNIMA International he took part in the organization of Councilor Meeting and Extraordinary Congress in Bali from 26 to 30 of April 2023.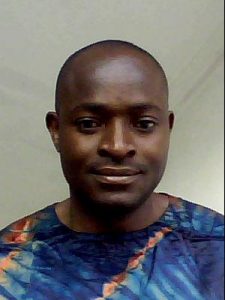 Phylemon Odhiambo – Kenya
Phylemon Odhiambo holds a Diploma in Project Planning and Management. He is a puppeteer and a community education specialist skilled in Communication, Training,  Puppetry, Folk Media and Theatre. Phylemon has over 20 years of experience in training of community development leaders, community resource people, Puppeteers and folk media specialists. He has initiated several artistic, puppetry, folk media and community based projects. He has undertaken consultancies with national NGOs and international organizations such as, Save the Children, Merlin International, Netherlands Leprosy Relief,  Aktion Africa Hilfe, UNICEF, etc. Phylemon has initiated puppetry programmes in Nigeria, Eritrea, Southern Sudan, Somali, Uganda and Liberia supported by different donors. He has also done artistic exchange programmes in Denmark, Netherlands, Norway, Sweden, Finland, Hungary, Israel, South Africa, Uganda, and Germany. Phylemon is also the Director of the Kenya International Puppetry Festival, a biannual puppetry festival that happens in Kenya every two years and is also part of several UNIMA International commissions.