Contemporary puppetry is undertaking an interesting level of artistic development. The year of the pandemic struck hard the many artists in the field, but isolation and lock downs also proved to feed curiosity, inventiveness and exchange.
The round table organized by UNIMA and UNESCO gathers five puppet theatre artists and experts, who will highlight and discuss the needs for freelance artists to establish structures for survival. The many possibilities to meet online is creating a new culture of exchange and openness. Still, the need for governments and authorities to find a deeper understanding of culture and art as an economically important sector of the society is of great importance.
The aesthetics of puppetry were through history close to new technical achievements and the digital era has opened up the world of puppetry to all other art forms. Today, puppetry is everywhere and comes in many variations. The dichotomy of tradition and modernism is as false, as the cultural diversity is a fact.



PARTICIPANTS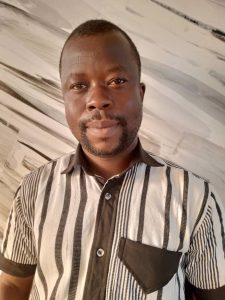 Gilbert Agbevide – Togo
Actor, puppeteer and cultural administrator, Gilbert Agbevide is the Director of the cultural association KAdam-KAdam in Lomé-Togo, which has accompanied many emerging artists now recognized on the African and European scenes. He also takes part and coordinates projects supported by the European Union, ACP CULTURES PLUS, OIF, DOEN Foundation, the Swiss Cooperation, the African Fund for Culture, and contributes to professional training in Africa. He coordinates and animates the African network of festivals in public space Ma Rue (17 festivals in 10 African countries). He has led official missions in Africa as well as in Brazil, France, Belgium and Haiti in the framework of cultural projects.
Nowadays, Gilbert is flourishing in the development of singular cultural projects that mix art and technology, going off the beaten track to accomplish his mission of accompanying new generations of public towards contemporary creation (dance, puppetry, performance and theater). His versatility, his enthusiasm for new business models and his expertise in cultural administration, in Togo as well as in the West African sub-region and in Haiti, make him a choice interlocutor for artists wishing to be accompanied in their internationalization.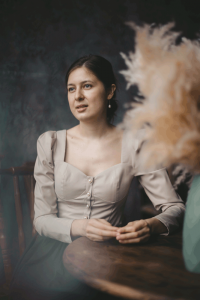 Oksana Byrliba – Russia
Oksana Byrliba is a member of the author's theatre Eskizy v prostranstve (Sketches in Space) as art manager, specialist in working with foreign projects, actress and performer. Theatre Eskizy v prostranstve is a creative union of stage managers, actors and artists. Going beyond the classical theatrical interpretations, the theatre focuses on creating drama spectacles and street performances. Eskizy v prostranstve participated in the Theatre Olympiad 2019 and some international festivals in Germany, France, China, Romania, the Commonwealth of Independent States and Russia.
Oksana Byrliba graduated at National University of Science and Technology «MISIS». When she was a student she joined in 2012 to the theatre studio of the author's theatre Eskizy v prostranstve. She studied at the theater school «Gogol School» in 2015-2016. She participates in the administrative life of the theatre and is engaged in the development, support and content of the theatre's website. Oksana Byrliba takes part in the performance Fathers. Non-fictional stories (from Meyerhold centre's repertoire and played now in festivals) and some other projects of the theatre.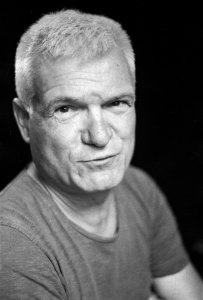 Fabrizio Montecchi – Italy
Fabrizio Montecchi, is director and set-designer. In 1977 he started his so far uninterrupted professional career with Teatro Gioco Vita and with this company he has worked on the development of a very important experience for contemporary shadow theatre. Since 1985 he has directed more than 50 shows. His productions have won several awards and featured in the main festivals for puppet theatre and theatre for children and youngsters all over the world. Since 1993 he has also been involved in teaching with the aim of sharing and spreading knowledge about contemporary shadow theatre. Always to this end, he has written books and articles about shadow theatre. Fabrizio Montecchi was awarded the Prix IIM 2013 de la Transmission (Training and Education) by the Institut International de la Marionnette de Charleville Mézières.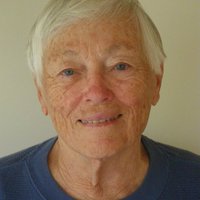 Nancy Staub – USA
American puppeteer, author, collector. In New Orleans in 1954, Nancy Lohman Staub with Sidney Kittinger founded the Pixie Players, which continued as the Punchinello Players until 1960. In 1968, she opened another theatre in New Orleans, the Puppet Playhouse, where she directed two shows for puppets and symphony orchestra, Babar and Peter Rabbit.
As the director of the UNIMA 13th World Puppetry Festival, held in Washington, DC in 1980, Nancy Lohman Staub created a landmark in American puppetry. The festival exhibit, Puppets: Art and Entertainment, toured to eleven cities in the United States. She served on boards and panels for UNIMA-USA, UNIMA International, Puppeteers of America, The Jim Henson Foundation, and the Theatre Panel of the National Endowment for the Arts. Nancy Lohman Staub donated her major collection of international puppets to establish the museum at the Center for Puppetry Arts in Atlanta, Georgia Center for Puppetry Arts in Atlanta, Georgia.
The work of Nancy Lohman Staub has raised the standard and consciousness of puppetry in the United States and abroad. Puppeteers on every continent value her friendship, her curiosity, her quiet optimism and keen intelligence.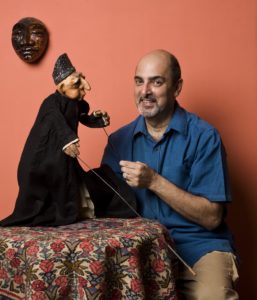 Dadi Pudumjee – India
Dadi Pudumjee trained under legendary puppetry artist Meher Contractor, was a guest student at Marionette Theatre Institute] in Stockholm under Michael Meschke, where he also participated in workshops run by Minosuke Yoshida of the National Bunraku Theatre in Osaka, Japan.
Dadi Pudumjee is founder of the cross-cultural company, The Ishara Puppet Theatre Trust (New Delhi), where he works as director, designer and puppeteer, collaborating with puppeteers, actors and dancers, both traditional and modern. His work spans multiple cultural traditions – from India and beyond, especially countries of the East. Ishara has trained and continues to train and offer workshops in puppet theatre to youth and adults with an equal focus on social causes and entertainment. The Trust organises one of the most important annual theatre festivals in the country – The Ishara International Puppet Theatre Festival, held in Delhi; 2016 was the festival's 15th season. Among its many projects, The Ishara Puppet Theatre Trust ran a programme on HIV/AIDS awareness and substance abuse, supported by UNESCO. He has received several prestigious awards in India for his work and contribution to puppet theatre, notably the Sangeet Natak Akademi Award in 1992 and the Padmashree in 2011, the latter presented by the President of India for Dadi Pudumjee's contribution to puppetry. Dadi Pudumjee is a former President of UNIMA India and UNIMA International's Asia-Pacific Commission, a Vice-President of UNIMA International (1992-2004) and is President of UNIMA International since 2008. Since 2016, he is the President of UNIMA International's Social Justice Commission.

MODERATION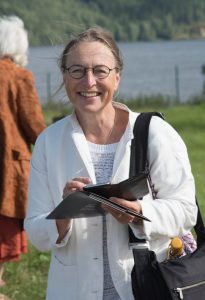 Margareta Sorensön – Sweden
Margareta Sörenson is a writer, journalist and critic of theatre, dance and performing arts with specialist knowledge and focus on the art of puppetry.
She is the writer of several bilingual (Swedish-English) books on puppet theatres, like Marionetteatern (1998) and A Great Little Theatre, 30 years with Tittut Puppet Theatre (2008) and wrote books with Michael Meschke like En Estetik för Dockteatern [An Aesthetics for the Puppet Theatre] (1989). For puppet theatre, she also wrote a play for the memorial of August Strindberg in 2012 based on the letters between Strindberg and his youngest daughter. The piece, The Shadow of August Strindberg, was played during the Strindberg year in 2012.
Margareta has been president of the International Association of Theatre Critics since 2014.

INTRODUCTION OF THE ROUND TABLE

For UNESCO
Ms. Reiko YOSHIDA, Head of Programme and Outreach Unit, the Diversity of Cultural Expressions Entity
Reiko Yoshida manages teams and projects implemented around the world to support the development of sustainable, bourgeoning cultural and creative industries through policy support and technical assistance.
For UNIMA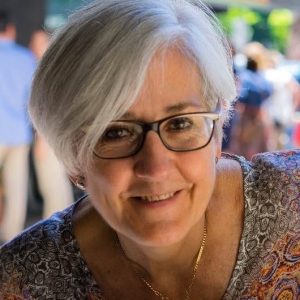 Idoya Otegui, General Secretary of UNIMA
Born on 16 September 1960 she studies Congress Organization and Public Relations. Co-founder and director of TOPIC, International Puppet Centre of Tolosa, founded in 2009 and Director of the International Puppet Festival of Tolosa, founded in 1983. She is member of the State Council for the Performing Arts and Music of Spain, (2010-2016; 2020 – ), and of its Executive Committee (2020 – ). Since 2013 she draws up the puppet yearly programme of the National Drama Centre in Madrid. She has managed many cultural events.
Since 1986 is member of UNIMA (Union International de la Marionette). She was General Secretary of UNIMA Spain in the period 1992-1996. International UNIMA Councillor elected by the Congress for the periods 2000-2004, 2004-2008, 2008-2012 and 2012-2016. Chair of the Elections Committee of UNIMA International since 1998 to 2014. Member of the Publications and Communication Commission of International UNIMA. She has been President of UNIMA Spain from 2008 until 2015. General Secretary of International UNIMA elected in June 2016 for the period 2016-2020 been the first woman General Secretary in the 87 years of history of UNIMA.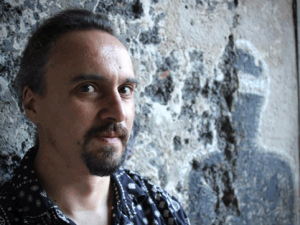 Clément Peretjatko, voluntary general coordinator of the UNIMA ResiliArt Project, member of the "Europe" and "Youth" Commissions of UNIMA.
Following theatre and cinematography studies at the University of Rennes 2, Clement Peretjako studied the actor-puppeteer course at the National School of Puppetry Arts in Charleville-Mézières, and graduated from there. He then took a professional master's degree in "Strategies of International Cultural Exchanges" at the Political Sciences University of Lyon. He co-founded Collapse to bring together the arts of poetry and puppetry by combining research with creation.
In his work as a director, he defends an approach of puppetry as art, as a tool of sociological illumination and as a response to any system of oppression. He is currently working on the Vertep, a traditional puppet theater used for pro-revolutionary purposes in Ukraine. To continue his commitment to contemporary theatrical writing, he participates in the reading committee of the EURODRAM translation network which was initiated by the Maison d'Europe and Orient – European Cultural Center in Paris. He collaborates regularly with various French and foreign artistic teams.
He is councillor for France within UNIMA since 2016 and member of the "Europe" and "Youth" commissions of UNIMA.