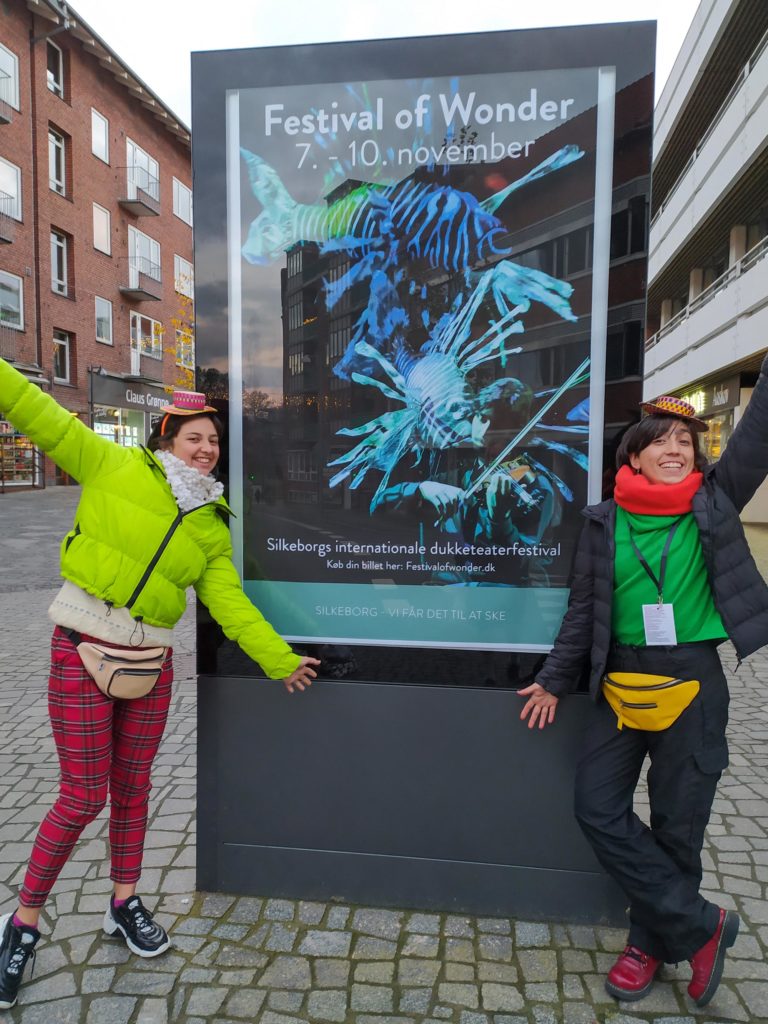 When we begin to talk about this review we had to think about how to translate into words so many emotions experienced in just a few days.

As you may know, travelling to very distant places to discover new cultures and enjoy art is not easy for us, latin american women artists. At present, the cost is not always easy to afford. So when we confirmed louise and then ulla that we were finally going, we knew we were courageously embarking on a paramount project. However, we would like to point out that without the help of unima gave us it would have been impossible for us to be in Silkeborg.

Arriving to here and feel that the dream we had started thinking about a year before had become true was unbelievable! For four days a sea of art was waiting for us to indulge in and fairy tales with unknown language and imagery took hold of the little town. What really caught our attention was both the topic chosen and the criteria for shows selection which was impeccable. We strongly believe that such endeavour shows the dedication, passion and professionalism of someone who knows well. So our thanks and admiration to ulla who has clearly shown that women can also be the heart & soul of such a successful and well-known international festival.

All performances were top quality and full of different combinations of poetry, technique and aesthetics. We can still recall many images and feel we have actually been part of a fairy tale! Dimitri stole our hearts and a few tears of happiness as well as he let us know how much he had risked for his art. And making use of humour and tenderness he accomplished an outstanding synthesis of life and death in his work.

We know that attending this festival as young students really changed our lives forever. We were able to listen to artists from different parts of the world talk not only about shows and festivals in other countries but also anecdotes from previous festival editions and new proposals for the be surpriseear. And we were more than lucky to be able to talk and reflect on contemporary art with many of the guests.

Besides, for the first time, we managed to breath in the other side of a show and enjoy talking with the artists about their creative process, their plans and projects. In addition, we could give those people who were a little strange to our culture an insight on latin american art and argentine drama. We will never be thankful enough for having had such a golden opportunity to complement and enrich our career as students of object theatre. This festival gave us the opportunity to meet loving and excellent artists while planning future artistic events. But this festival really plays magic for young and old, totally renewing contemporary art and restoring the beauty sometimes lost in the "virtuality" of our daily lives. In each performance the message for reflexion was clear : the danish culture unfolded itself to the world inviting foreign artists to be surprise a festivall in love with silkeborg and its inhabitants for four magic days.
Perhaps, here is our challenge as young puppeteers: to create new bonds that enable us to let the world know how passionately and professionally latin american artists work. We were transformed by many performances in festival of wonder, but it would be amazing if the danish public could also enjoy what we have the chance to see in argentina, too.

Our more sincere thanks to ulla & paul for making us feel part of each moment of the festival and for welcoming us with such kindness and hospitality.

We feel that going to silkeborg was really worth it and we left full of adrenalin and ideas that will surely find their way once we get home, in due course because we also know that we have a long way to go, but this was the beginning of something great.

The mission was accomplished: part of ourselves has died to give birth to a new vision of art as we know it. There is no doubt. We would love to go back to silkeborg in 2021.
Carolina and Alfonsina