Day 3 started with reports from the Americas. Happy anniversary UNIMA Brazil! Humanitas and Cooporation commissions also shared the great work they are doing to support puppetry artists in times of need, including a project to support students from Ukraine to continue their studies. Special thanks to the contributors to the Emergency Aid Fund for supporting these efforts! The Professional Training commission also shared news of a new event on June 2 which will be a meeting of directors that explores how they are working in times of war. The Research commission also shared news of their new initiatives to support the 2025 Congress programming in South Korea, announcing "borders" as the theme to a special symposium and an event focusing on the future of UNIMA. Congratulations to the Publications commission for the survey of puppetry magazines, results are now published on the website. And Salma Mohseni Ardehali, councilor from Iran and EC member announced the very exciting news that the WEPA will now soon be published in Farsi! Congrats to UNIMA Iran for the successful conclusion of that immense undertaking! Next came proposals for projects from the General Secretary Dimitri Jageneau including activities for the next festival in Charleville-Mézières, the headquarters of UNIMA, and a magazine by UNIMA. The afternoon concluded with a presentation of the provisional budget by the Treasurer Lucile Bodson.
For those in Bali, the afternoon was filled with an illuminating seminar led by Pak Sedana at the Seni Indonesia (Indonesian Institute of the Arts) campus on "Wayang or Puppetry Now and Its Significance."
The evening here in Bali commenced the start of voting! Thank you to councilor Kathy Foley for leading the proceedings as President of the Extraordinary Congress, and to the volunteers who are assisting with the counts councilors Natalia Aleksieva (Bulgaria), Sabrina Baran (Canada), Delphine Clarinval (Belgium), Émilien Truche (Germany) with Svetlomira Stoyanova (Bulgaria) and Héléne Ducharme (Canada) helping on zoom. Also special thanks to the Elections committee Elizabeth Bado, (Brazil), Roberta Colombo (Italy), Phylemon Odihambo (Kenya), Dr. Dimas Samodra Rum (Indonesia), Svetlomira Stoyanova (Bulgaria), and the Statutes committee Annette Dabs (Germany) Carles Caňellas (Spain), Kurt Hunter (USA) and Pierre-Alain Rolle (Catalunya) for all of your work to get us to this point. Let the voices of the members be heard through their elected councilors!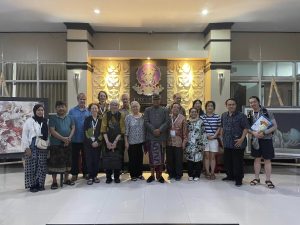 photo of council meeting courtesy of Kembly Aguilar, photo of Seminar participants courtesy of Claudia Orenstein