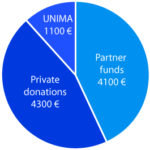 We are delighted to deliver some information about this project. But firstly, we owe you a huge thank you. Thanks to your willing support and the sale of encyclopedias, we have raised 4 300 Euros.
After projects in Lebanon and Germany, this year, Kanguru is active working with Rohinga refugees and displaced people in Malaysia.
In order to carry out this project we need your support.
Click on the image below to access Paypal.
The whole team of UNIMA Kanguru thanks you in advance for your support for our voluntary work.
Kanguru in Lebanon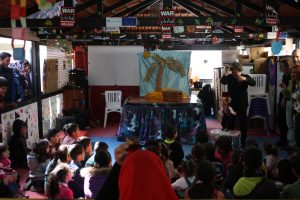 From the 1st to the 11th March 2016, seven volunteers from UNIMA KANGURU, made up of two from the Spanish company Marionetes Nomades, three from the Lebanese organisation Les Amis de la Marionnette and two students from the Lebanese company Khayal, presented 11 performances of the show 'The Pirate's Treasure' (using wire puppets; 30 minutes long; in Arabic), as well as with puppetry workshops with Syrian refugee children and Lebanese children considered vulnerable. The mission took place in 9 locations in Beirut, in the area of ​​Mount Lebanon and in the north of the country, reaching approximately 1,300 spectators. It was organised jointly with Payasos sin Fronteras from Spain and War Child Holland. The total cost of the mission was 4,400 Euros, 2,500 of which were covered by UNIMA.
Kanguru in Germany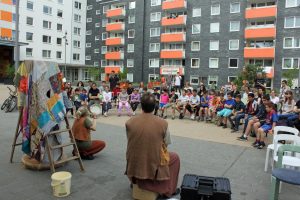 From the 7th to the 13th May 2016, five volunteers from UNIMA KANGURU, made up of four from the Lebanese company Khayal and a German aide, presented the show 'Qu'il pleuve des poussins' in Arabic in locations with high populations of Syrian and Iraqi refugees within the German cities of Bochum, Herne, Hattingen and Essen. Between the time that this project was set up and the dates when it was carried out, the refugee camps in Germany were emptied and the refugees scattered to flats throughout the country. The social workers in charge of these groups were thus more difficult to reach. The shows were performed in refugee camps, in a church, in a firefighters museum, and in the open air in local neighbourhoods, both for second-generation refugees and new arrivals. This mission was carried out in collaboration with the FIDENA Festival in Bochum, which took charge of the organisation and covered a large part of the cost (2,200 Euros). The cost of this mission was 5,100 Euros, of which 2,900 was paid by UNIMA.
Kanguru in Malaysia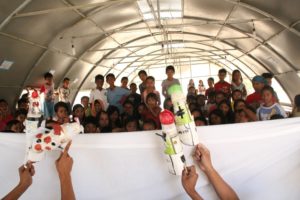 This project take place during 2017 and is aimed at families of Rohinga refugees.
The population of Rohinga people, originally from a coastal area of Myanmar, is around 1.4 million ; they are Muslims living within a country which has 54 million Buddhists. Currently around half of these are living in exile or as refugees. A 1982 law about citizenship in Myanmar means that they are not recognised in law as a minority group of citizens, making them stateless people. According to the UN, they are one of the most persecuted minorities in the world. Malaysia has taken in around 100,000 Rohinga refugees.
Kanguru, in collaboration with puppeteers from the Singapore-based group Artsolute, proposes to work with these refugees on a storytelling project, using everyday objects, object manipulation and puppet-making. Through this, they will be able to develop self-expression and artistic education as daily practice. On completion of the project, local donors and educators from the refugee camps will be able to use puppets to teach language and social skills. The relationship between donors and refugees will also be enriched through this project; the creation of stories and art by the Rohingas will enable them to reinforce their identity.
The project occur during the summer 2017. Four people will be involved over a period of 10 days. The costs are estimated at 2,700 Euros.